Brand
Purolite
Structure
8% Cross Linked Standard Mesh,
Gel Polystyrene Divinylbenzene
Life Expectancy
5-15 years (Dependant on water source)
Operating temperature
150-degree C (300-degree F)
Resin Type
Gel Polystyrenic
Ionic Form
Na+
Physical Form and Appearance
Clear spherical beads, Wet
Moisture Retention
46-50% (Na+ form)
Whole Bead Count
90% min
Screen Size Range
16 – 50 mesh
Total Capacity
1.9 eq/L (41.5 Kgr/ft³) (Na+ form)
Origin Country
U.S.A
Principal Applications
Beverage and food processing
Softening- potable water
Industrial water softening
Domestic application
Purolite c100e Resin Replacement for Water Softener Overview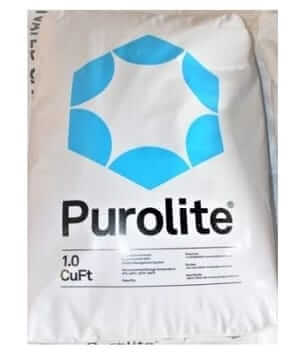 Purolite C-100E is the most popular water softening resin. This best rated water softener resin offers the best combination of performance, quality and price.
It is a premium and industrial-grade strong acid gel-type cation exchange resin. This resin is designed for the treatment of domestic and industrial potable water. Its main application is industrial water softening (Sodium form). But this resin is also used in demineralization processes (Hydrogen form).
C100E water softener replacement resin features a standard particle size distribution. It operates successfully over a wide range of operating conditions. It offers higher resistance to the attack by oxidizing agents and thus, it ensures a longer resin life.
You also buy the red color, single unit
About Purolite Company
Purolite is one of the leading brand names in purification and resin based-separation technology. It's a USA based company. This brand has earned reputation for its innovative advanced resin technology and solution. They produce high-quality catalyst, ion exchange, adsorbent and specially high-performance resins. In fact, Purolite focuses 100% of its resources on the production and development of resin technology.
The Best Aspects
Compatible with all brand water softeners
The best aspect of C100E is it's a standard resin that fits perfectly with any brand water softener. You won't face any problem to fit it Novo, Canature, Hydrotech, Fleck and other water softening system.
Price- It's cost-effective.
You don't need to pay much for decent water softener resin.
This food grade water softening resin comes in bulk, in a 49.9-pound bag that contains 1 cubic foot of media. That means it's a cost-effective resin for treating your household water.
If you're looking for highly-efficient, the best water softener resin for well water, then c100e purolite is this. In fact, it can handle the toughest water conditions. It can also soften private well water with high iron content.
This high capacity water softener resin helps to eliminate limescale, mineral stain and soap scum. Thus it enhances the life of your water appliances. Moreover, your dishes and clothes will feel and look cleaner.
C-100E Cationic resin complies with U.S. food and drug administration codes. So, you can be rest assures that this resin is safe to use without any negative physical effect.
Certifications
Complies with U.S. food and drug administration codes
Certified by the WQA to NSF/ANSI-61 Standard
Compliant with FDA Regulation 21 CFR 173.25 for Food Treatment, Ion Exchangers
When choosing any water softener resin, you must be vigilant in noticing both the positive and negative aspects.
The Positives
Perfectly suits for nearly any water softener
Cost-effective
High bead integrity
Excellent kinetic performance
Excellent chemical and physical stability
Efficient regeneration
Very low extractable content
The Negatives
There aren't many negative aspects to list about this resin. However, it's important to note that the lifespan of this resin bed is influenced by the water content such as iron and chlorine level.
What Users Are Saying
When it comes to the buyer reviews, this earned excellent feedback from customers, with an average score of 4.6 out of 5.0 at the time of writing.
In general, you'll find happy and positive feedback from residential well water users. Most of the buyers are completely satisfied with the performance and the way it softens water.
FAQ
Is it a new resin or replaced?
Is this an 8% or 10% cross-linked resin?
How many bags of resin do I need?
If you have a manual softener system with standard 30,000 grain, one bag Purolite C-100-E is enough to rebed it. But if it's an automatically regenerated softener, you need to account for backwash freeboard and under the bedding. So that it allows the softener bed expansion for eliminating broken resin beads.
What is the life expectancy of this water softener replacement resin?
If your water has high iron and chlorine levels, it will reduce resin life. Otherwise, you can expect at least 10 years or much longer lifespan.
When do I need to replace the resin in my water softener?
As mentioned above, you may need to replace the resin within 5 to 10 years after installing the water softener if the hardness level is between 0.5 to 5. However, the frequency of resin replacement also depends on many factors such as chlorination level, iron level of water etc. Additionally, there are many variables that also affect how often you need to rebed your water softener.
Conclusion
Purolite c100e is the right pick for anyone who wants an efficient, yet cost-effective resin that will work well in toughest water conditions years after years.
You're unlikely to feel disappointed if you buy this Purolite resin for water softener.
We hope you'll consider this strong acid resin when you have a need.
Thanks for reading.