Fleck 5600SXT 64,000 Grain Water Softener Digital SXT Metered Whole House System is a top-notch water softener that comes with smart features usually not found in any other products.
It is what you may choose as your go-to product if you prefer a simple metered home water softening system. This fantastic unit outperforms other water softeners that are even more expensive.
An elaborate review of a cost-effective digital water softener in the market is here. Although it is a bit pricey, it will worth all your money. It is a great product with a lot of effectiveness.
The product is NSF certified thus giving you peace of mind.
Fleck 5600 SXT 64,000 Grains Water Softener Review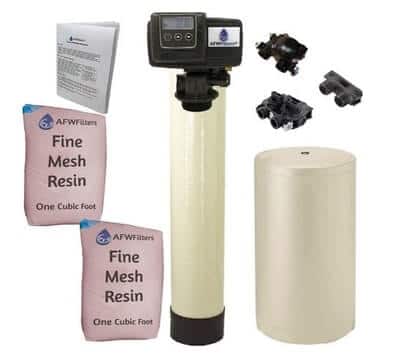 Programmable head– the Fleck 5600SXT consists of a digital head that has an LCD. This allows you to program the unit for regeneration purposes. The LCD display has a simple interface that enables you to learn and operate this unit with ease.
It also utilizes a smart detection system. The system can detect the water consumption schedule. It can regenerate itself based on your water needs. The intelligent detection system allows for automatic time setting of up to 48 hours.
A dual-tank System-You get a dual-tank system with Fleck 5600SXT: the water tank and the brine tank. The brine tank has a capacity of 250 lbs of pellets of sodium chloride. Thus a lot can be stored in one go. You also get a safety float to prevent the overflowing of the tanks.
Constant water supply– You will not run out of softened water when using this unit. That is because it has a flow rate of 12gpm. It can supply water for 3 to 6 individuals. Supplying you with a constant rate of water.
Internal power backup– The system has an internal power backup system. This helps in ensuring efficient water softening in case of a power failure.
Large capacity water softener– a 10 x 54-inch water tank and a 14 x 17 x 33-inch brine tank. This is large enough for your consumption needs. It can remove 64000 grains of hardness from your hard water.
Durable material– the manufacturing process utilizes resin material. The Durability of the resins increases the lifespan of the water softener.
Upgraded Paddle Wheel Meter– This feature immensely improves water dispersion.It is a 64000-grain water softener, which needs around 1 bag of salt per month.
Pre-load: The system comes with a pre-loaded resin. It means the user will not need to load it themselves.
Programming: The Fleck 5600SXT's built-in capacitor stores memory for up to 48 hours. The programming will stay even if power is lost. It is also eligible to adjust cycle times through programming.
Touchpad: The system also has an informative display. The user can have complete touchpad control over the system.
Removal: To achieve the softening of the water, the Fleck 5600SXT removes Magnesium and a bit of iron. Preventing your pipes to get scalings.
Pros
You get value for money when you buy Fleck 5600SXT 64K grain water softener.
Use of good quality resin material.
It comes with pre-loaded resin.
It is an easy to use digital interface system.
Utilizes a smart detection system.
Constant water supply.
An extended warranty of 10 years on the twin tanks and five years for the valve.
The touchpad makes the experience simple.
Cons
It requires an ample installation space.
The unit lacks drainage tubing when you buy it.
It does not filter minerals from your hard water.
The 64000 Grain version is pricey.
Conclusion
Fleck 5600SXT can serve a family of 6 by having 3 bathtubs. You can use it as a replacement too.
The smart detection saves the hassle of setting your water softener system manually. Its touchpad system will make its operation a pleasant experience for you.
Also, it saves a lot of time, as you will not have to load the resins into the system yourself.
A long warranty of 5 to 10 years gives a peace of mind to anyone using the system.