If you landed here, then you're clearly trying to find out what the best resins for water softener are you can buy for removing iron, magnesium, and calcium from hard water
It's also safe to assume that you don't want to waste countless hours of searching through hundreds of websites just to find the best rated Water Softener Resins that fit your specific needs.
Well, you're in luck!
On this page, you'll find everything you need to quickly make the right decision on which Water Softener Resin to get.
A Quick Comparison of Our Favorites
1. Purolite C-100E Cationic Resin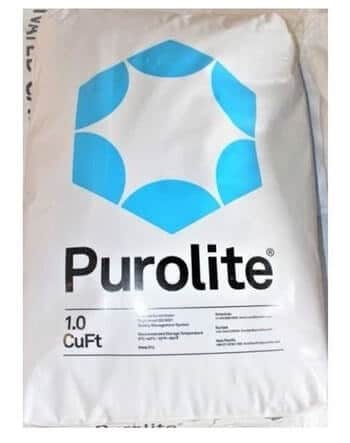 A highly rated water softener resin, the C100E Purolite Cationic Resin is the best for well water which has high iron content.
This Purolite c100e Replacement Resin comes in sodium form yet it's a polystyrene strong acid cation exchange resin of 8 percentages cross link.
It is packaged in a 1 cubic foot bag that weighs 49.9 pounds. The resin's beads are clear or amber-colored. More importantly, they are premium beads of excellent purity.
They work by forming conventional gel polystyrene sulfonate cation exchange resin. The resin effectively counteracts the hard ions in water, leaving you with pure water. By softening your domestic water, the Purolite C-100E Cationic Resin improves the efficiency and durability of your household appliances.
That's one of the reasons why Purolite C-100E resin is the best for use in a household. It also works excellently for industrial water. And, you can be rest assured of its safety because it complies with the U.S. Food and Drug Administration codes.
Read More: Purolite C-100E Cationic Resin
Pros
Removes the after taste in hard water
Can work with the hardest water, which makes it good for camping and trips
Has the best chemical stability
Its kinetic performance is absolutely great
Cons
Water quality influences the longevity of this product
2. Tier1 IER-100 Ion Exchange Water Softener Resin, 0.88 Cubic Ft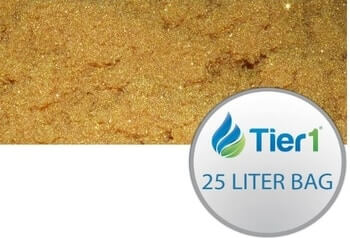 With a 10% cross link, this resin is one of the most durable out there. It has a life expectancy of up to 10 years.
It's made of high capacity gel polystyrene, a strong acid cation exchange appropriate for most water systems. This includes both commercial and residential systems.
Unlike other resins, this one comes in a 25-liter bag weighing 53 pounds. The bag occupies 0.883 cubic foot of resin bed. If you feel that's more than you need you can order a half of it. Such options ensure that you only receive the quantity you need or the amount you can afford.
How does this Replacement resin work? It saturates hard water, removing all the elements that cause hardness. Ultimately, you will be left with soft water that will neither stain your fabrics nor cause lime scale on your appliances. More importantly, you can use it for drinking, cooking and whatnot.
Pros
Multi-purpose resin that can be used both commercial and residential
It is a durable resin with a life expectancy of up to 10 years
Increases longevity of your appliances
With 10% cross-link, its chemical stability is excellent
Cons
Price is on the higher side
3. AFWFilters SOFRES1 Water Softening Resin Replacement.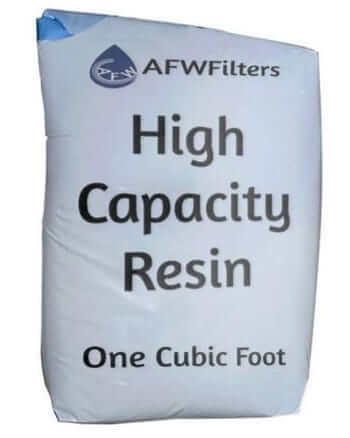 The AFWFilters SOFRES1 comes in beaded form with 8% cross-link containing Divinyl benzene. For that reason, it works best in water that is non-chlorinated and without iron.
Through the ion exchange mechanism, the resin removes hardness ions in water (calcium and magnesium) and replaces them with sodium ions. In case you're worried, you will be glad to know that it's approved by USDA, NSF and FDA for meeting the guidelines and standards of resins.
That said, continuous use of the SOFRES1 will exhaust the resin bed – which is normal for most water softener resins. If that happens, simply regenerate the bed with common salt and you will have pure water again.
A great perk of the product is that it can be shipped either as one single package or two halves. If you choose the latter, then you will get two bags that weigh about 44.6 pounds each. The single package weighs twice as much.
Pros
Beads are spherical for maximum performance
Has a good life span of about 12 to 15 years
Can be used with all standard water softeners
It is easy to replace the resin in your water softener
Cons
Ineffective in water that has extremely high levels of iron
4. LiquaGen 2 CU FT, Best 10% Crosslink Resin for Iron
If you are looking for the best water softener resins for iron removal, LiquaGen is one of the premium quality resin for water softener manufacturers out there in the market.
A lot of people spend so much to replace their resins and still are unable to get the best. With the LiquaGen water softener resin, you don't need to pay thousands of dollars to have an expert do the replacement for you.
Their DIY process makes it easy for you to replace your water softener resin yourself spending only the original cost of the resin.
This black-colored resin comes in bead-form and uses strong, premium-grade acid cation exchange. It comes in a 2 cubic feet bag that weighs about 75 pounds.
With 10% crosslink, LiquaGen is excellent for removing excess iron molecules in water. The high cross-link forms a fine mesh resin that traps hard ions effectively. On top of that, the resin replaces magnesium and calcium ions with sodium ions.
In case you didn't know, magnesium and calcium ions usually cause water hardness. So you want to rid your water of those two. How can you use LiquaGen Replacement Water Softener Resin? For one you can use it in your household to soften water for domestic use. It will help a great deal in your cooking, washing and drinking water.
In industries, this resin purifies water used for food processing, treating beverages and so much more. In other words, it's a multi-purpose water softener resin.
But note that the efficiency of LiquaGen can reduce over time. In which you may realize that there is still hardness in water. To control this, use common salt to regenerate the resin bed.
Pros
High-quality product valued at an affordable price
The available funnel makes it easy for you to replace the resin
Lasts for a very long time – 12 to 15 years
Effectively handles water with high iron concentration
Has great chemical stability
Cons
It's hard to hate this resin, but its 0.5 cubic feet alternative is quite expensive
5. Oceanic Water Systems High Capacity Replacement Softener Resin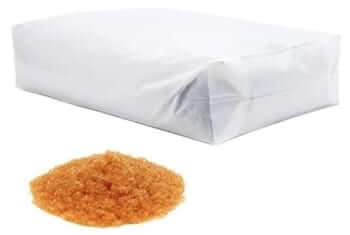 First of all, this 100% Ion Exchange High Capacity Replacement Softener Resin is Upgraded 10% Cross Linked. It's not a heavy package. It weighs just about 50 pounds (roughly 23kgs) and comes in a 1.0 cubic foot bag.
With its 10% cross-linked strong acid cation, this Oceanic Water Systems resin works best on water that is chlorinated and with no iron. So if your water provider uses chlorination to disinfect water, you may want to add this resin to your shopping list. Most municipalities and cities use this method of water treatment.
The resin comes in small, yellow or white colored micro beads of diameter 0.5-1 mm. This makes them porous enough. The tiny beads provide a large surface area for trapping ions in hard water then replaces them with other ions. This is the ion exchange mechanism.
Where can you use the Oceanic Water Systems resin? It is perfect for treating water used in foods and beverages. Besides you can use it for food processing as well as potable water.
Pros
It has got good selectivity and thermo-tolerant characteristic
Great physical and chemical stability
High capacity strong acid cation
It has a long life span
Fairly affordable
Cons
One of the hardest resins to change
No mention of the product coming with a loading funnel
6. HydroTec Systems HTS8S-1.0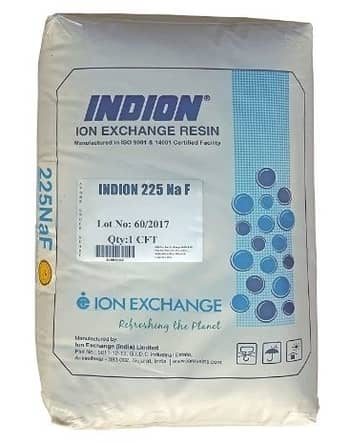 The HydroTec Systems has straw-colored beads of 8% cross-link with DVB for optimal performance. It works using the cation-ion exchange media in sodium form. The resin is packaged in a 1 cubic foot bag that weighs pounds.
Even though it is not made in the USA, this water filter resin meets the NSF (National Science Foundation) standards of compliance. Meaning it is (without a doubt) safe to use in treating drinking water.
The HydroTec systems works best if your softener is more than 5 years old or if the water has a high percentage of iron. To get maximum benefits of the product, use the entire bag at once in your water softener system. This strategy improves the resin's longevity to 10 or more years.
Another great advantage is that it's easy to replace. You can do it the DIY way without calling "the guy".
Pros
You can set it up or change it on your own
Compliant with US safety standards so it's safe to use
Suitable for treating water used in households
The food-grade resin assures you of highly purified water
Cons
Gets damp once you open the bag
7. Amanzi CATION-50-BOX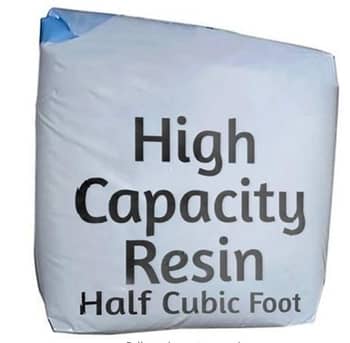 Now this is a 50-box resin from Amanzi. Meaning its mesh number is 50, not 100 like the AMANZI Cation-100-Box. With a strong acid cation exchange of 8% cross-link, it's no doubt as good as any standard cation resins on the market. But rather than getting a 1 cubic foot bag (as is the case with most resins), this offer comes in a half cubic foot bag that weighs about 23 pounds.
Don't raise your hopes too much with this resin because it's a 50-box. As such, its more suitable for household uses rather than industrial applications. All in all, it replaces hardness ions like calcium and magnesium with sodium ions, just like any other resin.
Note that when the resin bed gets exhausted, the quality of water will be affected. But that shouldn't worry you because you can regenerate it with sodium or potassium chloride solution.
The resin will continue to perform well provided there is little or no iron and chlorine in your water. In terms of safety, it is a standard grade resin product that meets the required federal guidelines for potable water usage.
Pros
It is easy to replace hence need to hire a professional
The 10-year lifespan guarantees you longevity
Very suitable for household water softener systems
It's a standard cation exchange, therefore delivers soft water pretty well
With 8% cross-link, this resin is chemically stable
Cons
Not ideal for industrial use
8. AMANZI Cation-100-Box Hi-Capacity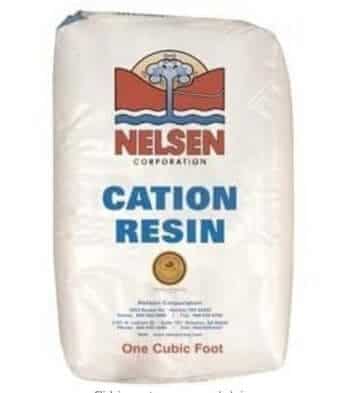 Amanzi has a 50-box and 100-box resin. You're probably wondering what the numbers mean. Well, they refer to the size of the resin. Standard cations are typically measured by the mesh number, and on that scale 100 is finer than 50.
So the label "100-box" simply means that the spherical beads in this resin are super fine. They are smaller than cation resins. Most standard cation resins have a mesh number of 50.
Now, back to our product, the AMANZI Cation-100-Box. It is best suited for water that has a high concentration of chlorine. On top of that, this resin will treat iron, and it will probably do so better than other standard resins.
The fact that it is a standard 8% cross link makes it usable for use in most standard water softeners. It comes packaged in a 1 cubic foot bag. In terms of longevity, you can expect the resin to last between 10 and 15 years. The exact duration depends on how hard your water is, the product's life's cycle and a few other factors.
Pros
Lasts longer than the average water softener resin
It is easy to use thus you require no professional assistance
Has a fine mesh that ensures efficient water filtration
Removes chlorine and iron content in water
It has got good chemical stability
Cons
You will have to purchase a funnel separately for loading it
9. AFWFilters BIRM-10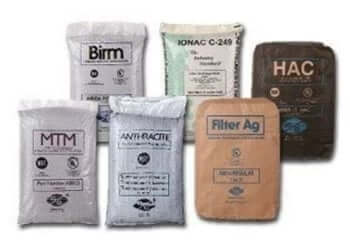 This is yet another high quality resin albeit a bit different from the rest. The product is black in color and it comes in a 1 cubic foot bag that weighs 53 pounds.
It's particularly created to remove excess minerals like iron and manganese. If your water has iron, the iron will combine with oxygen to form rust. Luckily for you AFWFilters (through the Birm media) filters out iron from water.
It also removes sediments, rust and dirt. That's why it's arguably the best Resin for iron. The beads will last you between 4 and 8 years depending on the hardness of your water. You can use it in iron filter tanks and the purity of water won't be affected.
An added benefit is that you can easily replace this resin. So throughout the entire 4 or even 8 years you will require little to no effort to keep your water soft.
While it's an excellent water resin for residential use, the AFWFilters Birm Iron Filter Water Resin is not recommended for commercial purposes.
Pros
You can easily replace the filter media
Makes an excellent choice for residential use
It can dissolve suspended materials
A proven long-lasting efficiency
Offers good value for money
Cons
You will have to buy a loading funnel separately
Unsuitable for commercial use
10. Aquatrol CAT100E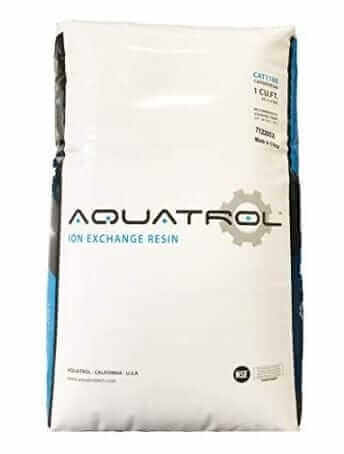 The Aquatrol water softener resin is ideal for softening residential water. It works best with a 32,000-grain residential water softener. Designed in amber-colored beads, this resin is 8% cross-link and has both divinylbenzene and polystyrene. You can get it in a 1 cubic feet bag weighing 50 pounds.
Aquatrol's beads work together by forming a fine mesh resin that effectively traps extra hard ions in water. Simply put, you can use this resin to remove substances like sulfur and iron. The best part is that it doesn't affect the lifespan of the resin bed.
There's even more good news: Aquatrol beads work with almost all the popular water filters. But it's always a good idea to check your softener's manual for compatibility. While you're at it you can also find out the right amount to use.
How long will Aquatrol water softener resin last you? Well, that depends on the hardness of your water. On average it has a life span of 10 years, which can double to 20 if your water isn't that much hard.
Pros
Comes with a funnel to help load the resin
Has impressive durability of between 10 and 20 years
It has good chemical and physical stability
One of the most affordable water resins on the market
The resin works with many residential water softeners.
Cons
Inefficient when used with some water softener systems. That's why it's important that you read the softener's manual before placing your order.
Best Water Softener Resin Buying Guide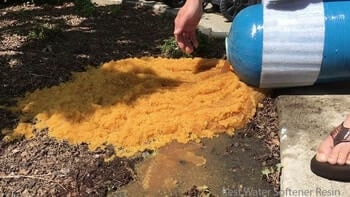 From the comparison table above, and the list of resin, we can see that there are two main types of water softener resin available. They are fine mesh resin and the standard ion exchange resin.
Standard Ion Exchange Resin
This type of resin has an important role when it comes to purifying water and making it soft at the same time. They get rid of dissolved iron in the water that is between 3 to 5 P.P.M. This type also regenerates using sodium chloride, which is common salt, or potassium chloride.
Apart from iron, they are efficient in removing other organic contaminants and heavy metals like copper of lead from the water. The beads are usually spherical and small, around the size of sand grains.
Fine Mesh Resin
These resins are much smaller than the standard ion exchange resin, and since they are very small, they usually require an individual riser screen or a gravel bed that has small slots. This is to prevent the resins from moving away from the water softener when it is being regenerated.
They can remove dissolved iron better than the standard ion exchange resin, up to 10 P.P.M, so if you have high iron levels, then this is what you need. They are also good with removing excess chlorine. Another thing about this type is that it includes activated carbon that makes the smell, feel and taste of water better.
What Does 8% and 10% Cross-link Mean?
Now that you know the types of resins for water softening, you should know that there are two sizes of cation resins which are the eight percent crosslink and the ten percent crosslink.
The linking between the cores of the resin beads is the crosslink. Water softener resins use cross-linked divinylbenzene to make the beads tighter. A higher crosslink is more expensive than the lower one. The lower crosslink resin beads are bigger and they expand more than the higher crosslink resin beads.
The lower crosslink resin beads are more efficient in softening water because they hold more water, but the higher crosslink resin beads have a longer lifespan.
8% Crosslink: This can last for up to fifteen years, although it depends on the water quality so you should expect a lifespan of ten years instead. They are more commonly used than the 10% crosslink. They can dissolve iron of about 3 to 5 P.P.M and are good for water that doesn't have much iron or chlorine.
10% Crosslink: This crosslink has better strength than the 8% crosslink and lasts longer. They are great for water with chlorine. Resins with 10% crosslink or even higher are specialty resins and are great for the public supply of water. The only challenges with this crosslink is the higher pressure drops that it causes and the fact that it is more expensive than the 8% crosslink. Fine mesh resins are usually called 10% crosslink because they share similar features.
Which Replacement Resin Do You Need?
What factors do you need to consider when picking the right resin for your water softener system?
You would need to consider the levels of chlorine in your water. If your water has about 5 ppm of chlorine, then a resin with an 8% crosslink is much more advisable because it can soften city water. If the levels of chlorine are higher than 5 ppm, then you should go for a 10% crosslink or fine mesh resins.
You should consider the levels of iron in the water too. High iron levels in the water would need a 10% crosslink or fine mesh resins, while lower levels would require an 8% crosslink.
The source of your water is also important. If your water comes from a well, then you should purchase the best resin for well water with 10% crosslink or fine mesh resins. If it comes from a municipal or public source, then the 8% crosslink would be adequate.
Your budget also matters. If you plan on saving a lot of money on your purchase, then the 8% crosslink Resin is ideal for you. If not, then you can go for the 10% crosslink or fine mesh resins.
If you plan on using the water softener resin for a very long time, then the 10% crosslink or fine mesh resins lasts longer than the 8% crosslink.
How it Works?
Water softeners are systems that remove mineral contents which make your water hard and make your water softer. When your water is soft, it is safe for drinking, cooking, cleaning, and it prevents the buildup of limescale and soap scum. It also prevents your clothes from getting faded and prolongs the life of your pipes.
Water softeners cannot work without resins. The hard water from the tank comes from the control head of the water softener and it goes through the beads that are attached to the resin bed. The beads would then replace the harmful mineral content in the water while it passes through with potassium or sodium ions. After this, the resin bed would still soften the hard water, and then it makes it suitable for use.
How to Replace the Resin?
Firstly, switch off the water supply and detach the water softener unit from the plumbing.
You would have to remove the clasps that keep the control head in place by unscrewing them carefully. Place the softener tank somewhere safe.
Get a bucket, or a self-draining tub if you have one, and put water, resin beads, and gravel into it.
Get your garden hose and use the water to clean out any resin beads remaining.
Place the tank to stand erect, and remove the riser tube.
Place the funnel into the opening of the product tub, and refill the gravel before pouring the new resin through the funnel.
There would be tape on the product tube. Remove it and attach the control head.
You also have to attach the unit back to the plumbing and turn the water supply on.
Regenerate the unit.
Check the taste after a while.
How Much Resin Do You Need for Replacement?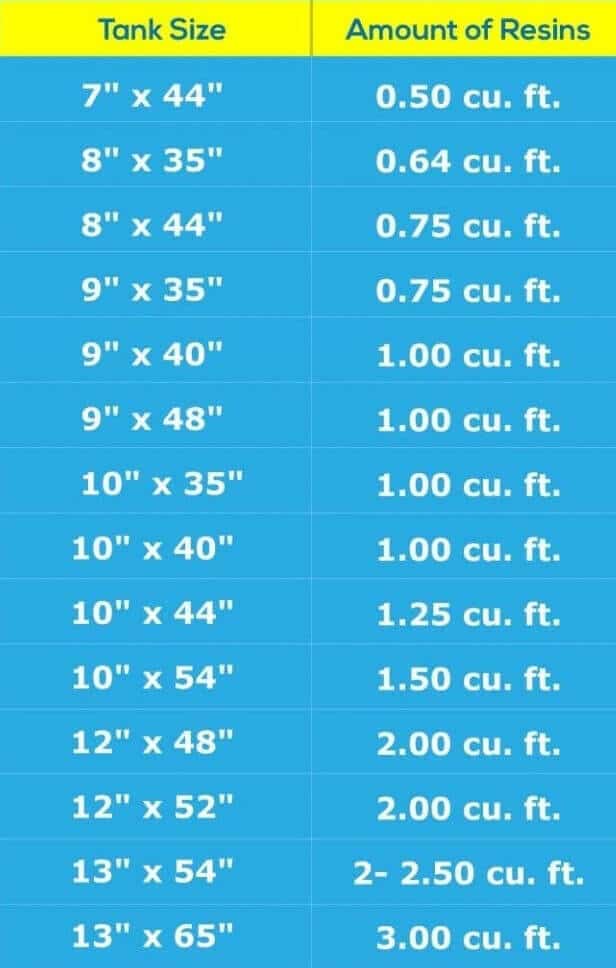 This depends on the size of your water tank and your resin tank. You would have to know the size of your water tank before you purchase your water softener resin. Some tanks have already included the size, usually in form of a sticker. Once you know your tank size, you would know how many cubic feet that you need. This is the list of the usual tank sizes and the resins needed:
Frequently Asked Questions (FAQs)
How often should I replace my resin?
A resin lifespan depends on the organic coating of the resin and the iron in the water. Excessive amounts of iron or chlorine can destroy your resin bed. To know
How when to replace your resin bed, pay attention to your resin bed. If your water softener regenerates but still the soft water finishes quickly or the water softener system no longer brings out soft water, then the resin needs to be replaced.
Also, check the rate of salt in your water softener. If it is using the usual amount of salt but not bringing out soft water, then you also need to replace your resin.
Which softener resin is the best?
It would be difficult to say because the type that you get depends on the levels of chlorine and iron in your water, the source of your water and your water softener system. At least one brand from the list of our reviews above would accommodate your needs.
Is it advisable to replace my resins myself?
Yes, it is, as long as you follow the steps to the latter. Replacing resins is a DIY job, although if you don't feel confident in doing it, you might as well procure the services of a professional.
Conclusion
Hard water is just irritating. It makes everything look bad, from stained sinks to dirty-looking bathtubs and unpleasant deposits on appliances.
In some cases, the additional minerals found in hard water clog drainage pipes. That means spending an extra buck on water softener repair. You really don't want all that trouble.
Well, anyone of the above water softener resins will help a great deal. Be sure to choose one that fits your budget. Also, check whether it is meant for domestic use, industrial use, or both.