Are you worried that the water your family is drinking isn't of the best quality? Depending on where you live, there is a high likelihood that the water coming out of your kitchen tap contains contaminants. As such, without a filter, your drinking water might be contaminated with chlorine, salt, or VOCs.
Good thing, there are many ways for you to address this problem. One of the simplest would be to invest in the best countertop reverse osmosis water filter. This type of water filtering system removes anywhere from 95% to 99% of impurities in your water. This ensures that you and your family have access to clean and safe drinking water.
What's great about this type of water filter is that it doesn't require installation. This means you can start filtering without the need to call a professional.
A Quick Comparison of Our Favorites
Best Countertop Reverse Osmosis Water Filter Reviews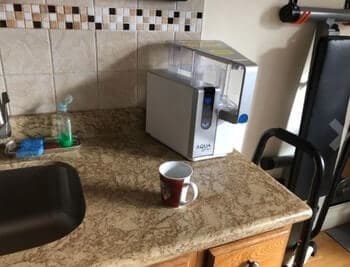 Have you decided on buying a RO water filter for your kitchen? That's good! Thankfully, the market is packed with hundreds of options from trusted brands. If you don't have any idea how to choose one, though, there's no need to fret, as we'll be with you every step of the way.
To help with your search, we scoured the online marketplace to find the best reverse osmosis countertop water filters. We then narrowed down the options to five so that you'd have a better chance of finding only the best of the best.
1. AQUA TRU Countertop 4 Stages Ultra Reverse Osmosis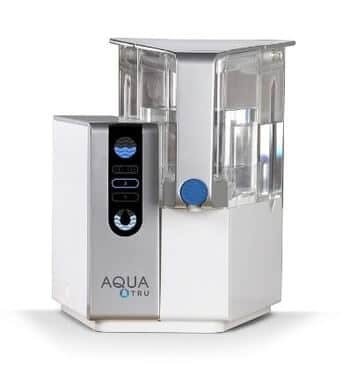 For our first option, we have the AQUA TRU Countertop Water Filtration System. Since 2016, this brand has been a proud manufacturer of quality water filters that don't break the bank.
What does it have to offer your household? Let's take a look at its features to find out.
Top Features
IAMPO Certification
4-stage filtration system
Twist and Seal filters
100% satisfaction guaranteed
There is a long list of diseases that can come from drinking contaminated water, and this is what the AQUA TRU countertop RO system is helping to keep at bay. In fact, it's four-stage filtration technology removes fluoride, copper, radium, chlorine, chromium, and hundreds of other types of impurities from tap water.
The four-step filtration system features a mechanical pre-filter, followed by a RO pre-filter, US-made RO membrane, and finally, an activated carbon filter.
No installation necessary!
Perhaps its best-selling point, though, is the fact that you won't have to install it. You would only need a few minutes to set it up, and you can already begin drinking clean water. This will put an end to your needing to buy bottled water, too, thus helping lower plastic wastes and saving you money in the long run.
Will it be tough to maintain?
Your RO system will arrive already with filters expected to last anywhere between six and 24 months. These filters also feature a twist-and-seal design, so changing them would be quick and easy.
Lastly, weighing in at 22.6 pounds and with dimensions of 18 x 18 x 15 inches, it won't take up too much of your counter space, too. Its sleek and compact construction also adds value to the overall look of your kitchen counter.
Pros:
Provides better-tasting, cleaner, and purer water
Made of BPA-free plastic
Requires no installation
Does not take up too much counter space
Filters one gallon of water in 12 to 15 minutes
Can be used in small kitchens
Cons:
May not filter quick enough for large households
2. RKIN AlcaPure Zero Installation Reverse Osmosis Countertop Water Filter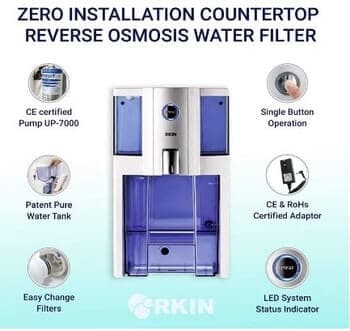 Formerly PuricomUSA, the new and improved RKIN remains to be a well-loved brand for its state-of-the-art water filtration systems. They are also known for helping households achieve better indoor air quality by providing quality air filters.
The RKIN AlcaPure water filter is among the top-rated countertop reverse osmosis water filters because of its amazing features. Will those features be enough to meet your family's needs and preferences?
Top Features
4-stage filtration
BPA-free plastic construction
50% recovery rate
CE-certified pump
Single-button operation
Are you among the many who believe that drinking alkaline water has health benefits? If yes, then we're sure you'd love this next countertop water filter.
The RKIN AlcaPure claims to turn tap water into healthier, more delicious, and cleaner drinking water with a pH level of 7 to 8. With this, you can say goodbye to your favorite bottled alkaline water!
Does it require installation?
This countertop RO system features a user-friendly design, which means you won't have to worry about assembly, installation, or any messy hose or leaky valves. You would only need to plug it into either a 110V or 220V outlet, and you're good to go.
What's more, this water filter is compact enough to fit in tight spaces. In fact, it can be used in condos, tiny homes, and even RVs! everything from loading to dispensing to maintenance also happens on the front side, too, so you won't need to think of top or side clearance.
How does it perform?
You would be thrilled to know that this water filtration system only uses 30 watts of power, which is even less than what a light bulb consumes. To use it, simply fill the bottom container with water and wait for 15 minutes. The machine will automatically shut off once it's done filtering.
It works by filtering water through a five-micron sediment filter (first stage), an activated charcoal filter (second stage), a reverse osmosis membrane (third stage), and finally, a post filter (fourth stage).
Pros:
Requires no assembly or installation
Compact, stylish, and modern build
Easy to use and operate
Available in two color options
LED lights indicate when it's time to change the filters
Great customer service
Cons:
Small and takes a while to fill up
3. SimPure Y6 UV Sterilization Reverse Osmosis Water Filtration System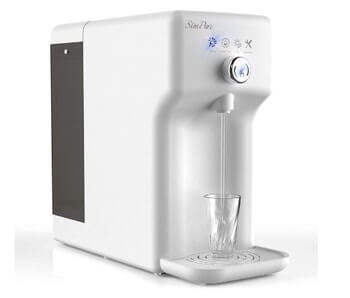 If what you're looking for is a reverse osmosis water filtration system that would fit your tiny kitchen, check out this option from SimPure. This brand specializes in ergonomically designed filtration systems, so you can be sure that you'd find what you're looking for here.
Despite its small size, this countertop RO water filter does what it's supposed to. At 15 x 18 x 8 inches, it is indeed a small but incredible machine.
Top Features
3-stage filtration
UV purification system
Portable and compact size
Removable 5L water tank
micron RO membrane
One-year satisfaction guarantee
30-days no-hassle return
Stocking your fridge with bottled water, while convenient, is actually unsustainable and harmful to the environment. With the SimPure Y6, you can have better quality drinking water, so you won't have to buy bottled ones.
Three stages of filtration plus UV sterilization!
As alarming as it may sound, tap water contains more than one thousand pollutants and harmful substances that need to be filtered out. The SimPure Y6 claims to remove up to 99.9% of impurities from tap water, thus giving you a healthier, cleaner, and purer supply.
How does it do this? The combined power of the three-stage filtration and UV sterilization technology ensures you get better quality water. The first stage features a sediment PP membrane, which is then followed by an activated carbon filter and a 0.0001-micron reverse osmosis membrane.
What else does this water filter offer?
Aside from its impressive filtering technology, you'd also enjoy the fact that this RO system is easy to use. Simply plug it in, put water in the tank, and wait for it to dispense. You'd only need to wait a few minutes to have 1.5L of cleaner and better water.
Because of its compact size, you can easily set this water filter up in your bedroom, office, or mobile home. Changing the filter also requires no tools and only takes a few minutes.
Pros:
Uses no chemicals
Emits no by-products
Produces better-tasting water
Cons:
Takes a bit of time to clean
4. Express Water EZRO5 Countertop RO 4 Stage Water Filter with Faucet.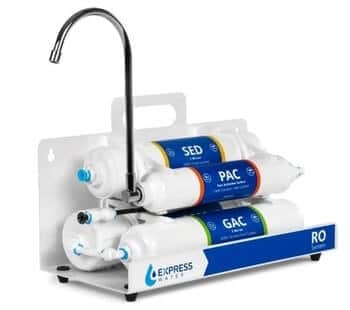 Express Water is a proud manufacturer of functional yet straightforward water filtration systems that deliver clean water on demand. So, if you'd like a simple solution to your family's clean water needs, this countertop RO water filtration system from Express Water might just be what you're looking for.
Top Features
4 stages of filtration
Easy swap filters
Includes adapters for standard faucets
Small footprint
Fast flow rate of 4 GPH
Whenever we feel thirsty, that means our body is already lacking water. As such, you won't want to wait but quench that thirst as soon as possible. With the Express Water Countertop Reverse Osmosis Filtration System, this is easy to do.
What makes it stand out?
Unlike the first three water filters we looked at, this option connects directly to your tap. This means you won't need to wait for minutes to get a refreshing glass. In fact, the four-point installation is easy and quick to do. It fits different types of faucets, too, including kitchen, utility, and bathroom faucets.
When it comes to filter changes, there really isn't much to think about. Every six months, you would have to change the filters, and doing so would only take you minutes.
How does it perform?
For such a small and simple countertop water filter, it is impressive that this Express Water option is able to provide four gallons of clean water per hour. This means every member of your household gets to have access to fresh water whenever they like, minus 99.99% percent of contaminants.
Pros:
Installs in four easy steps; no tools required
Provides clean, sweet water on demand
Removes fluoride, chlorine, viruses, and bacteria
Designed to prevent leaks
Gets rid of tap water smell
Cons:
Dispenses a weak stream of water
Requires high-pressure supply
5. Reverse Osmosis Revolution Countertop RO Purification System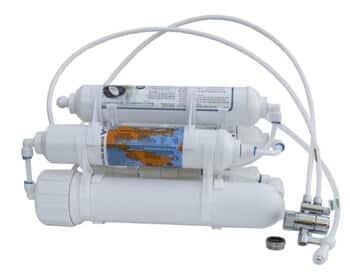 This United States-based company specializes in providing solutions to water filtration needs. What people like about them the most is that they offer quality water filtering products at budget-friendly prices.
Because it's cheaper than most other options, does it offer the same convenience and performance? Let's take a look at its features to get to know it more.
Top Features
State-of-the-art five-stage RO filtration
High-quality RO membrane
USA-made
Includes faucet diverter and adapter
Instead of just three or four stages of filtration, this RO purification water system boasts five! As such, you can rest assured your drinking water is free from VOCs, pesticides, bacteria, viruses, asbestos, arsenic, and so much more.
Installs in less than a minute!
Reverse Osmosis Revolution designed this purification system in such a way that it can be installed in just under 60 seconds. It attaches to different types of faucets, too, so you can use it in your condo, apartment, or RV!
Another impressive feature is that you can remove the entire system whenever you like. This is especially useful when you need to free up counter space. At just five pounds and with dimensions of 14 x 7 x 7 inches, you can easily store it away when not in use.
What is its biggest selling point?
This water purification system does what it's supposed to, thanks to its five-stage water filtration system. The first stage gets rid of rust and dust particles, while the second stage filters VOCs.
Next, the water will go through the third stage, which is the reverse osmosis system. This removes fluoride, lead, arsenic, bacteria, viruses, and more. The fourth stage removes radiation and TOC, while the fifth and final stage is a premium carbon filter made of coconut.
Pros:
Can produce an average of 75 gallons per day
Easy to install, no professional needed
Filter replacements every eight to 12 months
Fits all kinds of faucets
Claims to remove
Cons:
Only three gallons per hour
The hose is too short
What You Should Know Before Buying
Access to safe and clean drinking water is among the basic necessities that are often overlooked by many. With the top-rated countertop reverse osmosis water filter, you can easily address this issue.
As you already know, there is a long list of options on the market, and some boast better filtration and more features than others. To help you make the right choice, refer to the buyer's guide below.
Depending on the efficiency of the water filter you're looking at, the percentage of removed contaminants will vary. Some claim to get rid of 95% of impurities, while others say they can do better and remove up to 99.99%.
For the best-tasting and healthiest water, choose a model that has a five to 10-micron filter. This will clear up most contaminants, from radium and fluoride to mercury, asbestos, chlorine, rust, and more.
In line with this, you would also want to go with a water filtration system with filters that are easy to source. In this way, finding a replacement won't be a problem.
Next to filtration technology, you should also take into consideration how easy it is to install the device. For something so simple, it shouldn't take you a couple of minutes, nor require you to call a professional's help.
Alternatively, you will also find units that require absolutely no installation at all. Instead, you only need to plug it in, fill the tank with water, and you're good to go. Choose the type of water filtration system that fits your needs and preferences.
Having access to filtered water at home is all well and good, but what about when you're, say, traveling in your RV? Could you also use the same water filter when out camping?
If these are valid questions for you, then you would want to look for a water filtration system that can be moved from one place to another. With one, you won't be forced to buy bottled water to take with you when out in your RV or at a campsite, as well as when on vacation in your cabin.
In today's world, digital features are something you simply expect from all of your appliances. For a water filtration system, you would want extra features that would make it easier and more convenient to use.
For example, you would surely benefit from a unit equipped with indicator lights so that you'll know when to replace the filter. If you're willing to pay for it, you can also choose a model that has a built-in pH reader.
Which is better: zero installation or direct flow reverse osmosis system?
A direct flow reverse osmosis filtration system, or tankless reverse osmosis filter, does not come with a storage tank. Instead, it is connected directly to the faucet. This means the water is filtered right as you turn on your tap.
On the other hand, a zero installation filter is a stand-alone unit. It is equipped with a tank where you put the water to be filtered. In some models, you then press a button for the machine to start working and filter the water in the tank. Other units also come with a second tank where the filtered water is stored.
Like many things, the answer to the question above depends on your specific preferences and needs. They both function well, but many zero installation models often need electricity to operate. However, you can still find units that don't need to be plugged in.
A common problem with tankless reverse osmosis filters, though, is that it can be tough to find a model that dispenses water fast enough for some people's needs. Still, you can always filter water beforehand and store it for later so that you won't have to wait every time you want a refreshing glass.
Is reverse osmosis the best filter?
Reverse osmosis filtration systems are popular all over the world because of the benefits they offer. In fact, you will find that this technology is used in a variety of applications, from desalination of saltwater to purification of tap water.
The issue with this is instead of filtering out just the impurities, it also gets rid of the minerals in the water. As such, experts advise that you re-mineralize reverse osmosis water so as to make sure that you still get the benefits you want from it.
If what you're after is removing harmful substances from your drinking water, you can trust that a reverse osmosis water filtration system can do the job well.
Do I need a reverse osmosis filter if I have a whole-house filter?
A whole-house water filter treats and cleans every drop of water that enters the property. The filtered water is then used for general purposes, such as cooking, drinking, and cleaning. This filtration system rids the water of odors, unpleasant tastes, and chlorine.
On the other hand, a reverse osmosis filter is only installed where the water exits, hence called a POU (point of use) system. More often than not, the filtered water is only used for drinking and cooking. Reverse osmosis gets rid of hundreds of contaminants.
If you live in an area where the water has a funny taste and leaves residue, we recommend combining the power of a whole-house filter with a reverse osmosis system. Doing this ensures you only get the best-quality water there could be.
How often do I need to replace the filters?
How often you replace the filters in your reverse osmosis filtration system depends on the number of people in your household. If you live alone, naturally, you'd only need to replace the filters every once in a while.
In general, both the particulate and carbon filters need replacement every year. On the other hand, the reverse osmosis membrane itself has to be changed every three to five years.
Conclusion
Are you not satisfied with the quality of the water that comes out of your tap? Not to worry, as there are many ways to address this, such as investing in a premium-quality water filter.
Give your family the best-tasting, cleanest, and purest water when you invest in the best countertop reverse osmosis water filter!
The ones we reviewed above are among the best of the best that the current market offers, which is why we're sure any one of them won't disappoint. In the end, the choice would just depend on what you and your family's needs and preferences. Anyhow, the included buyer's guide and FAQ section can help you make an informed decision.
Good luck!