Think drinking water from your tap is safe? Not to incite fear, but the water coming straight from your faucet might just be causing you more harm than good. With every glass, you could be ingesting hundreds of contaminants.
If you wish to protect yourself and your family from the dangers of drinking tap water, the best countertop water distiller is what you need. It is known to effectively get rid of viruses, bacteria, and unhealthy chemicals. As a result, you get pure distilled water, which is one of the best types of water for cooking and drinking.
A Quick Comparison of Our Favorites
The Benefits of Drinking Distilled Water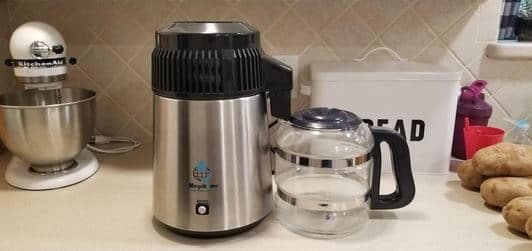 Making sure you're hydrated throughout the day gives you countless benefits in itself. But what will you gain from drinking distilled water?
Distilled water is pure water. It does not contain any additive, such as contaminants that may harm the body. While the data is limited, a lot of people believe that drinking it helps the body get rid of toxins.
The distillation process removes most types of pathogens in water. As such, drinking it as opposed to tap water means you're safe from water-borne bacteria that may cause diseases.
Lowers consumption of nitrates, copper, and barium
In case you don't know, the EPA allows for some harmful chemicals in drinking water, albeit at low levels. After the distillation process, none of these remain, so you're only drinking pure water.
Chlorine is used to treat the municipal water supply. However, ingesting this disinfectant for extended periods may cause problems in the body.
How It Works
So, how does a distiller work? A countertop water distiller looks much like a coffee maker, especially in size and shape. It is often made of just three major components: the condenser coils, the boiling chamber, and the storage carafe.
To this day, distillation remains the most accurate and cost-effective water purification methods. It works by using very high heat to turn tap water into vapor. Once this vapor condenses back to liquid form, you get distilled water.
Similar to any other appliance that uses high heat, a water distiller is prone to malfunctioning. As such, you'd want one that is guaranteed to last for many years of service. For that, we've got your back.
Best Countertop Water Distiller Reviews
You will find hundreds of water distiller reviews online, which is why it can be a pain to find the one model that will suit your needs. For that, allow us to help you out.
After a thorough look at what the market offers, we've narrowed down the choices to the best six water distillers for countertop.
1. Megahome Countertop Water Distiller, MH943SBSGBOT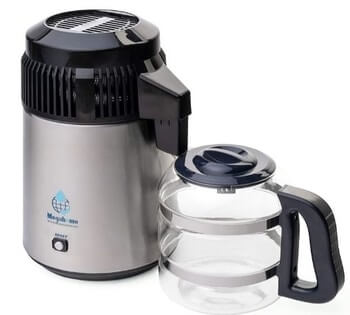 For nearly three decades, Megahome Corp. has been among the leading manufacturers of the best water distillers. Its group of experts designs, builds, and inspects every product, so you can be sure that each one meets the industry's highest standards.
Here are its stand-out features:
Approved by Underwriters Laboratory (UL)
Stainless-steel exterior and interior
High-quality activated charcoal filters
Porcelain-lined nozzles
Glass collection bottle
One-year warranty
What makes this an excellent choice?
First, let's talk about safety. This unit boasts certification from UL, which guarantees that the risks of fire starting are next to none. It also means that it complies with the strict safety standards you'd expect from a US product.
From the condenser coil to the boiling chamber and upper steam dome, this unit is made of 304 stainless steel. Not only does this ensure high quality but also durability. You'd appreciate the collection carafe made of glass and the nozzles with porcelain lining, too.
What we love the most about it is the optional activated charcoal filters. These are used to make sure that VOCs, such as chlorine, are eliminated. Lastly, to protect your investment, your purchase will come with a 12-month warranty.
Pros:
Water does not touch any plastic part
Can be used to purify seawater
Easy to assemble
Hassle-free maintenance
Distills a gallon every 5.5 hours
Cons:
The nozzle is difficult to take off
2. H2O Labs Best in Class Water Distiller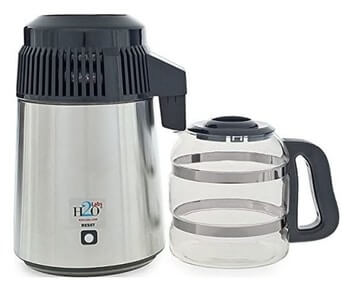 H2O Labs believes that distillation is the best water purification method there is. This is not only because it's effective but also because you can do it in the comfort of your own home.
Here's what you'd get from this model:
UL-listed overall design
Glass carafe with easy-to-lift handle
Grade 304 stainless-steel body
Activated carbon pods
Single-button start
Space-saving and portable size
Does it perform as well as it claims?
First and foremost, this model's best-selling feature is its high quality. H2O Labs makes sure that each product that goes out of their facility is tested. This is to guarantee that all units meet the consumer's requirements when it comes to ease of operation, economy, quality, functionality, and more.
Like most other options, it has a body made of stainless steel and a storage carafe out of glass. It also arrives with activated carbon pods you can use to filter out hundreds of contaminants.
Using this unit to its potential will pose no problems. It starts with just a push of a button and will turn off automatically once the distillation process is done. What's more, it's small enough to fit in any counter; you can even take it with you during trips.
Pros:
Turns off automatically
Comes with a jar of non-toxic cleaner
Food-safe and BPA-free plastic parts
Distills one gallon for 6 hours
Not difficult to clean like other options
Cons:
The nozzle is prone to breaking
3. Pure Water Mini Classic CT Countertop Distiller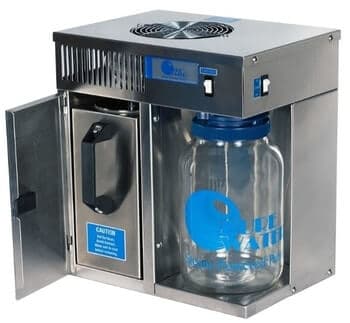 Next on our list is the Mini-Classic CT, a product by Pure Water. It is a family-owned company that has been in business for more than 45 years. They believe that drinking quality water leads to good overall health, and the Mini-Classic CT might just be the solution to your needs.
Here's what it has to offer:
Stainless-steel construction
Removable boiling tank
Glass jar
Dual purity vents
Activated charcoal filter
2-year warranty on electronics
15-year warranty on stainless steel
Will it be the right choice for your kitchen?
While this model does not look a lot like the first one we reviewed, we're more than confident that it does what it's supposed to. We know this because of the amazing features that it has to offer.
Immediately, you will notice that it's made of stainless steel. Inside is the boiling tank, which you can remove for easy cleaning and use. You'd also find purity vents, which lets out VOCs so that you end up with the purest water. Aside from that, it uses a charcoal filter, as well.
You'd also find that it comes with a glass jar where the distilled water is collected. This means that no plastic part of the unit touches your drinking water.
Pros:
Quick and easy set up
Distills 0.8 gallons in 3.5 hours
Water does not come into contact with plastic
USA-made
Easy to fill and clean
Built to last for years
Runs quietly
Cons:
Takes up bigger counter space than others
4. ROVSUN 4L Countertop Water Distiller Machine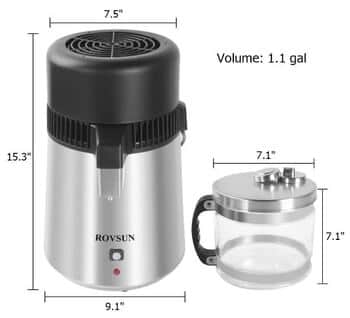 Rovsun looks somewhat similar to other options on this list, so what makes it an excellent choice?
Why is it among the top choices?
Stainless steel parts
Shock-proof glass container
Aluminum fan
3 activated charcoal sachets
Soft catheter to avoid leaks
Cleaning powder for the chamber
One-year warranty
Will it meet your needs?
This model has a highly-efficient heating element that can purify one liter of water in just 60 minutes. You don't have to worry about having to shut it off, too, because it will automatically shut down when the process is done.
With this unit, you can be sure that you're paying for a quality distiller. From the steaming chamber to the inner tank and cap, you'd have the durability of stainless steel. It even comes with a food-grade soft catheter, which effectively prevents leakage.
Other inclusions are three activated charcoal filter sachets and a bottle of cleaning powder for the chamber. If you're worried about manufacturing defects, you can also rest assured in the fact that this unit comes with a 12-month warranty.
Pros:
Automatic shut-off for safety
Low-noise operation
Easy to operate
Purifies one liter of water per hour
Produces fresh-tasting water
Cons:
5. CO-Z DWD-ZB0100 Water Distiller for Countertop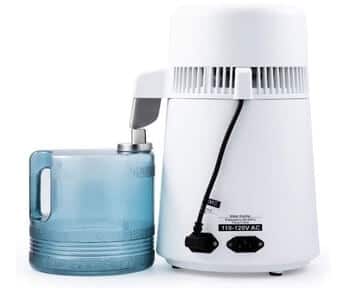 A distiller is a worthy investment because what you're really investing in is your overall health. Not many have the budget to spend on a new appliance. Co-Z understands this, which is why this model is one of the most affordable you will ever find.
Here's why it's the crowd's favorite:
Grade 304 stainless steel interior
BPA-free plastic
One-gallon glass carafe
Single-button startup
Activated charcoal filter
Ventilation holes
Anti-skid rubber feet
One-year limited warranty
Is it the right choice for your kitchen?
As long as you have enough space for it on your countertop, this unit would be a great addition to your kitchen. It has all the right features you would expect from the best water distiller, but you'd only have to pay a little over a hundred bucks.
At first glance, you might think that it's a cheap knock-off. However, when you take a closer look, you will find that the chamber, dome, and coil are all made of stainless steel. Moreover, the carafe, though it looks like plastic, is actually made of food-grade glass.
Aside from the unit and the glass collection bottle, you will also receive coconut shell-based activated charcoal filters. These help in removing VOCs and other contaminants so that you only get safe drinking water.
Pros:
Distills a quarter of a gallon per hour
Easy to use and maintain
Switches off automatically
Perfect for domestic settings
Portable enough to use in RVs
Cons:
6. ECO WORTHY One Gallon Water Distiller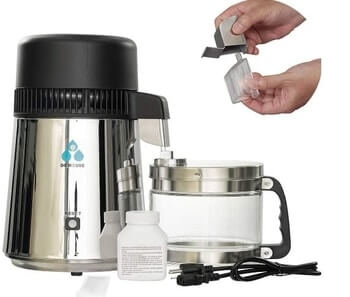 ECO-WORTHY aims to give families the means to produce distilled water safely, conveniently, and affordably. It takes pride in the fact that its products help households become more environment-friendly by not having to buy bottled distilled drinking water.
Here are its impressive features:
304 stainless-steel construction
Activated carbon filter
Glass collection bottle with a sturdy handle
One-button operation
12-month warranty
What makes it stand out from its counterparts?
The thing we love the most about this option is that it won't put a big dent on your wallet. In turn, you get to drink pure water without having to shell out hundreds after hundreds of dollars.
Despite being affordable, though, you will get the same features as you would if you buy a more expensive unit. Like its costlier counterparts, it comes with a stainless-steel body and glass carafe, as well as activated carbon filters.
When it comes to operation, this model is quite user-friendly, too. On the back, you will find an On/Off switch, which is basically what you need to know before using it. You won't have to worry about defects, as well, because your purchase is protected by a one-year warranty.
Pros:
Looks good in modern kitchens
No-hassle cleaning and maintenance
Distills a gallon of water in just 4 hours
Cons:
The glass bottle is not that durable
A bit noisy
What to Look for when Buying a Best Countertop Water Distiller
As mentioned, water distillation is one of the oldest and most effective methods of purifying water. Still, not many are knowledgeable enough to know how to choose the best water distiller. Here are the factors to consider when choosing one:
Manual vs. Automatic
One of the first things you need to decide on is whether to buy a manual or automatic model. Manual distillers require that you add water to the unit. In contrast, automatic ones are hooked up to the waterline so that you won't have to fill in and turn on the unit manually.
If you have a relatively small household, a manual distiller might just be enough to get you through the day. However, if you need gallons after gallons of distilled water each day, especially in an office or commercial setting, go for an automatic unit.
Materials Used
As opposed to plastic, a combo of stainless-steel body and glass container is the preferred choice. This concerns safety, as the distillation process may cause chemicals to leach and mix with the water if you use a plastic model.
If you have no other choice but to go for a plastic unit, or one that has parts made of plastic, make sure that it is BPA-free.
Safety Features
With high heat and electricity, you can never be too sure when it comes to safety. As such, check if the model you're planning to buy has some safety features installed. You will find some that have an auto-shutoff feature so that you won't have to worry about turning it off manually when the process is done.
Performance Capacity
Obviously, you also have to take into account the number of people that would be relying on the distilled water your machine produces.
The average person should at least have half a gallon of water each day. Multiply that with the number of persons in your household, and you'll know which is the best unit to buy. On the other hand, if you're planning on putting a water distiller for office use, you might want to consider a commercial model.
Energy Consumption
In case it wasn't clear, these machines run on electricity. And, you'd have to run it several hours each day to get the amount of distilled water you need. Some even do so 24/7.
If your drinking water needs requires you to operate your distiller all day, consider looking into a model that has a lower wattage than others. In this way, you get to save on your electricity bill.
Price
When it comes to buying anything, the price should almost always be a consideration. For such an important machine, you wouldn't want to go for cheap options. While they may work the same as higher-end ones, you will most likely need to repurchase one after only a few months.
Conclusion
From the water distiller reviews presented above, which do you think is the model that matches your needs? If you ask us, the best countertop water distiller among the six options is the one from Megahome.
Why?
The Megahome distiller boasts both a stainless-steel interior and exterior, which guarantees durability and safety. In fact, it is among the few models that boast being approved by UL. Aside from the food-grade, stainless steel body, it comes other value-for-money additions, too. You'd get a porcelain-lined nozzle, glass carafe, and six activated charcoal filters that you can choose to use or not.
Really, what else can you ask for?
In case you don't have the budget for the Megahome water distiller, you can always go for the budget-friendly Co-Z unit. This model does what it's supposed to, but you may find that it's a little noisier than most other options.
In the end, the decision rests on your shoulders. Thankfully, you now know more than enough about these machines that you can choose which one meets your needs the most.