The search is over. Today marks the day that we deliver to you one of the essentials that have been missing from your home—the best tankless reverse osmosis system.
We understand that you want to get your money's worth every time you buy a product. We also know how stressful it is to visit your local hardware or home appliance store and ask about the product you're looking for. Don't worry; we took the trouble upon ourselves and came up with this in-depth review.
In this heated battle, only one should come out on top. We'll discuss in great detail all the other options to guarantee that you'd be able to make the right choice. We won't keep this any longer.
A Quick Comparison of Our Favorites
Best Tankless Reverse Osmosis System Reviews
Our homes have their own dynamics, and we all function differently. That's why in looking for the best tankless RO filter, you have to figure out what it is that you want and what suits your situation better.
Here, we've listed down the top six tankless RO systems you could ever find. If you're sitting there thinking why in the world should you have a water filtration system, well, who doesn't want clean water, right?
1. Waterdrop Reverse Osmosis Water Filtration System, WD-G3-W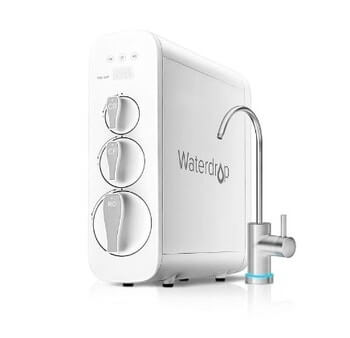 If you're quite familiar with water filtration systems, then you've probably heard of Waterdrop. This company has established its name in the world of water filtration, and for good reasons.
It never fails to capture the needs of every household with the efficiency of their products.
Top Features
NSF Certified performance
Seven stages of filtration
Internal pump
Low drain ratio
Chemical-free
Intelligent design
What makes the Waterdrop RO Water Filtration System special?
Why is the Waterdrop WD-G3-W tankless RO System on this list? Well, what we can say is that the conceptualization that has gone through the manufacturing of this product is very detailed and well thought of.
You will see lots of filtration systems out there that are NSF-certified, but with this unit, you can safely assume that it's perfectly safe because it's NSF 58 and NSF 372 certified. This means that contaminants like limescale, fluoride, lead, and other heavy metals, are safely filtered by the Waterdrop reverse osmosis device.
The wonders of a seven-stage filtration system…
This cleansing of water is done through seven stages of the filtration process. The water goes through carbon and pre-sediment filters before finally reaching the RO membrane filter.
Carbon granules are used on the filters, with the addition of coconut shells, giving the water a distinct taste while purifying it, as well.
Impressive water flow
We also know that one common problem that water filtration systems face is the slow water output. It is a minor issue, of course, but something that would really be a game-changer if it's fixed.
Well, Waterdrop is here not just to take part in the game but to actually take over. Their product is equipped with an internal pump that significantly speeds up the flow of the water, making it an ideal choice not just for household use but even for companies.
It even saves water!
Have you used a water filtration system before and noticed that your water consumption went up even though you didn't use that much?
It's probably because of the drain ratio of the filtration system you're using.
The good news is that the Waterdrop RO Drinking Water Filtration System has a low drain ratio that allows you to save up to 300% water when compared to other filtration systems.
It has also been tested for more than four hundred chemicals, passing each laboratory test. This means that the water filtered by Waterdrop is guaranteed to be pure and free of any harmful chemical.
No-hassle installation
Finally, the WD-G3-W reverse osmosis water filter is relatively easy to install because all the accessories you will ever need are already inside the package.
This means you can install it in any kind of sink or faucet. This intelligent design also allows you to change the filters with the utmost convenience.
Pros:
Passed the NSF 58 and NSF 372
Distinct taste
Fast water flow
Saves water
Laboratory-tested
Easy installation
Cons:
Slightly more expensive than your usual unit
2. Alkaline Remineralization High Flow Compact RO System, Frizzlife PD600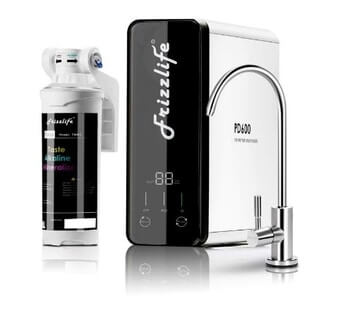 Frizzlife is another manufacturer that has been making its presence known in water filtration systems because of its slick design. Water filtration systems from Frizzlife combines functionality and style in their own unique way.
Top Features
Under-sink installation
2-in-1 composite filter
Alkalization and remineralization method
Water-saving technology
LED display
What makes the Frizzlife PD600 exciting?
The most notable feature of this product from Frizzlife is its under-sink filtration system. It took the definition of space-saving to a whole new different level.
To maximize the fact that this unit is tankless, more countertop space is saved when you have a compact PD600 Filter that you can install under the sink.
Four-stage filtration
The reverse osmosis process is done with a two-in-one composite filter that cleanses the water through four stages.
With a 0.0001 micron filter, you can guarantee that more than a thousand harmful chemicals will never get to flow out of your faucet. These include fluoride, chlorine, lead, and other chemicals or heavy metals.
What's more?
Another notable feature of the Frizzlife RO machine is its alkalization and remineralization method. You see, when water is filtered through reverse osmosis, much of its natural minerals are reduced and turns the water quite acidic.
With this, the four-stage process includes a process of balancing its alkaline level, transforming the water into at least 7.5 PH. This means that the water is drinkable and may even be good for your health!
Low Drain Ratio
Frizzlife's filtration system also allows you to lessen your water waste because of its low drain ratio. The money you spent paying for wasted water is more than enough to buy you a Frizzlife reverse osmosis because, surprisingly, this product can save up to 450% more water when compared to other systems.
It has a convenient design and is stylish, too!
Lastly, and definitely something you shouldn't miss out, is the design of the Frizzlife. If you're looking for the product that's not only efficient and worth your money, but can also fit nicely in your modernized home, say no more.
The PD600 Frizzlife is equipped with a smart LED display that gives you all the necessary information you will need on the product. The LED display indicates the remaining life of your filters and will even provide color-coded reminders on whether or not you need to change the filters.
Pros:
Saves much-needed countertop space
Alkaline and pH balancing technology
Saves up to 450% water
High-tech design
Displays essential information about the filters
Cons:
LED display requires an electricity source
3. GreatWell ROG400 with 400GPD RO Filter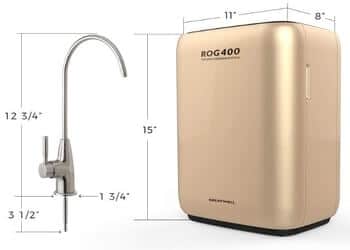 GreatWell specializes in anything related to home improvement. From kitchen items such as knives to bedroom needs like mattresses, GreatWell is all for the pursuit of making your home a better, more comfortable place to live in.
When it comes to water, they also have something to offer.
Top Features
Low drain ratio
3-stage filtration process
Leak-proof water route
Efficient design
NSF certified
What do you need to know about the GreatWell ROG400?
If you're looking for something that's simple yet efficient, compact yet straight to the point, you should check out the GreatWell tankless reverse osmosis. You wouldn't break a sweat installing this system, and changing the filters is relatively easy, as well.
This is equipped with an indicator that lets you know when you need to replace them. The compact design also enables you to save up to 30% space that can be used for other kitchen essentials.
Impressively low drain ratio
GreatWell's drain ratio is also of the same caliber as its top-tier competitors. At 1.5 to 1, you get to lessen your water consumption without having to sacrifice its flow rate. That's because this water filtration system can produce water at a fast pace, approximately going for a third to half a gallon every minute.
How about the chances of leakage?
The tankless design also guarantees that you wouldn't have to worry about leaks because the water routes are reinforced with leak-proof, FDA approved materials.
You can breathe easy because GreatWell can promise to deliver safe and quality water that's NSF certified. You can check off over a thousand contaminants like asbestos, fluoride, chlorine, and heavy metals because your water is definitely purified by GreatWell's 3-stage water filtration process.
One-year Warranty
If your device ever malfunctions, you don't need to fret. GreatWell offers a one-year limited warranty to all its products, and you can even call their technical support anytime for instructions about installation and maintenance.
Pros:
Lessens water consumption
Purified, chemical-free water
FDA approved materials
Space-saving
Individual filter change indicators
Fast water flow
Cons:
Water only goes through 3 stages of filtration
4. iSpring RCS5T, 500 GPD Commercial Grade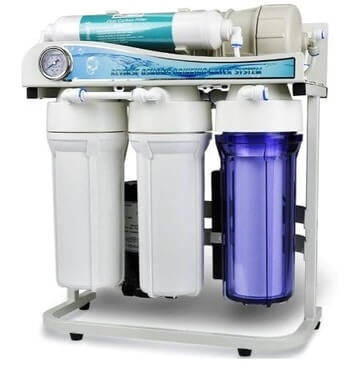 Another manufacturer that guarantees expertise in the subject, iSpring is one of the leading names in both commercial and residential water filtration systems.
From tankless RO filters to storage tanks and whole-house systems, you can be confident that iSpring can deliver the quality you're looking for.
Top Features
5-stage filtration
Dual-flow membrane
Low drain ratio
Booster pump
Drinking faucet
Tech support in installation
Is the iSpring RCS5T worth it?
If you want the short answer, it's a resounding, yes! The RCS5T iSpring boasts a dual-flow membrane without having to sacrifice its drain ratio. What that means is that this unit receives water from two sides and filters it simultaneously.
Impressive water savings!
If you think whether that may affect your water consumption, you can discard that thought. Despite the dual water entry mechanism, the RCS5T still has a 1:1 drain ratio that can save up to 60% water.
Five stages of filtration
Skeptics would think that this dual-membrane mechanism will overwhelm the filtration process, but don't worry. This unit is equipped with five-stage filtration to keep up with the water flow.
The first stage removes larger particles, while the second stage absorbs any byproduct of disinfection like chlorine and smell. The third stage acts as a safety net for any residue left by the second stage, which also helps prolong the lifespan of the membranes.
The fourth stage gets rid of viruses and bacteria, and finally, the last stage acts like a gate that removes any other residue to provide you with a cleansed and drinkable water.
What makes it stand out from its competitors?
One might think that a five-stage filtration may result in extremely slow water flow. Don't worry, iSpring saw that coming.
That's why their RCS5T is equipped with a booster pump to guarantee that the water pressure remains at a considerable level. In fact, you can even see it for yourself because the iSpring RCS5T includes a chrome drinking faucet that is equipped with a water pressure gauge.
Pros:
Dual-flow membrane allows you to filter more water
Low drain ratio lessens water consumption
5-stage filtration guarantees purified water
Fast water flow
Drinking faucet is equipped with water pressure gauge
Cons:
No indicator for filter life
5. SimPure Q6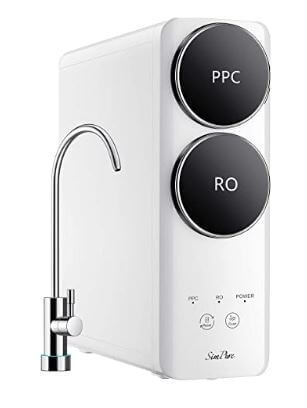 SimPure is all about home improvement. If you want something that's both simple and pure, SimPure has got you covered.
From air purifiers to water filters, this manufacturer will provide you with the best products that turn houses into homes. That's why we didn't want to miss out on their SimPure Q6 model.
Top Features
NSF certified
4-stage filtration
Sleek design
Low drain ratio
Filter change indicator
Does SimPure's simple and pure image also translate to efficiency?
Here's what we do know, SimPure RO has got all the basics covered.
First and foremost, since safety should always be our top priority, it's important that we mention the fact that water purified by SimPure is NSF certified. This means that you won't find any contaminant that may compromise the safety of your water as it undergoes a 4-stage filtration process.
Will it meet your needs?
The slim design of Q6 also lets you save up to 70% countertop space that may otherwise be used for other household essentials.
To maximize the idea of saving, this device also has a low drain ration at 1.5 to 1, reducing your total water consumption. Despite the low drain ratio, SimPure delivers water at a rate of 400 GDP.
Wide Compatibility
Most importantly, it comes with a faucet that you can install on the sink. The faucet monitors the water the flows through it and indicates whether or not you need to change the filters.
Pros:
Safe from contaminants
Saves up to 70% of space
Reduces water consumption
Fast water flow rate
Comes with a faucet
Filter life indicator
Cons:
The faucet needs its own installation
6. Bluonics High Capacity 400GPD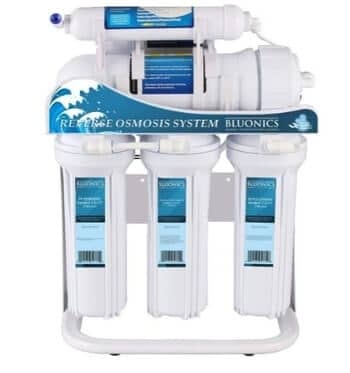 Last on our list is the Bluonics high capacity tankless five stages reverse osmosis drinking water under counter filter system. Coming from a company that specializes in water filters and purifiers, you can expect nothing less from this manufacturer.
That's how Bluonics made their way to our list and maybe eventually to your home.
Top Features
Under-sink filtration system
5-stage filtration process
NSF certified
One-piece manifold
What you need to know about the Bluonics 400GPD?
The last on our list is the Bluonics, and it won't go down without a fight. If you really want to maximize the space on your kitchen sink, we'd like to let you know that Bluonics have prioritized that.
Evidenced by their under-the-sink filtration system, all filtration processes undergo beneath your sink, and you have the entire countertop for all other kitchen equipment.
Small but incredible!
Since it's NSF certified, you can rest assured that Bluonic's 5 stage filtration process eliminates any harmful chemical or contaminant that may be lurking in your tap water.
This compact unit also guarantees a fast water flow rate at 400 GDP.
How about installation?
Installation and filter replacement are relatively easy, too, since it comes with a complete DIY instruction manual.
Aside from that, the one-piece manifold that comes with three interconnected housing caps guarantees that the water flows smoothly from one filter to another.
Pros:
Under-sink filtration saves countertop space
No chemical or contaminant guarantee
Fast water flow rate
Easy installation and filter replacement
Cons:
No filter life indicator
Needs at least 65 psi to function properly
Why Choose a Tankless RO System?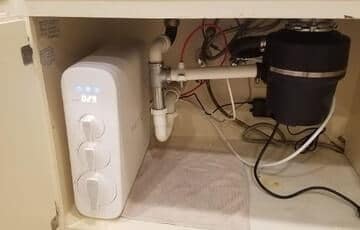 All of this discussion about the tankless reverse osmosis system brings out one important question that must be answered: Why bother?
Why do you really need this equipment in your kitchen? Sure, you want the convenience of drinking water right from the faucet safely, but is there more to it?
Well, let our list of benefits answer for you.
1. It saves space.
One of the most important benefits of tankless RO filtration systems is the amount of space you'll be saving. You certainly need lots of space in your kitchen top, and you don't want an entire tank of water reservoir just sitting there.
With the slim designs and under-sink options of tankless water filtration systems, you don't have to worry about that.
2. It offers instant and unlimited supply.
Another essential benefit of a tankless RO filtration system is the fact that you don't need to get your drinking water elsewhere.
Since this filtration system basically transforms tap water, making it purified and drinkable, you can have clean water at your disposal.
What's more, the supply will never run out!
3. It offers less risk of contaminants.
One downside of filtration systems with a tank is that there is the fact that water is still stored in a container. This heightens the risk of your water being unsafe.
One small mishap and your water reservoir can easily get contaminated, leading to gallons of waste water. Since tankless RO filtration systems do not need a container, the risk of contaminants is significantly reduced.
How Does a Tankless Reverse Osmosis System Work?
Basically, a tankless RO system works by using membranes to filter water. More often than not, these systems are equipped with three membranes. The main difference is how these membranes function.
In some tankless reverse osmosis systems, membranes can only provide three stages of water purification. However, some manufacturers have taken it up a notch and found a way to develop RO systems that can filter water for up to five or even seven times.
Through this process of filtration, ions, as well as any large or unwanted particles that may otherwise be harmful if ingested, are removed from the water composition. Reverse osmosis utilizes pressure to get rid of these particles and eventually provide you with purified water.
Important Features to Consider Before Buying
Because of the wide variety of options, it may be difficult to find the single, most suitable tankless RO filtration system for everyone. It will ultimately depend on what you want and need.
However, you still need to take note of these few reminders before getting yourself a filtration system.
Water filtration systems vary greatly in sizes. Some are slim, while others are quite big.
If one of the reasons why you opt for a tankless filtration system instead of those systems with a tank is to save space, make sure that you choose one that fits in your kitchen, or can be placed under the sink.
Even though all of these products claim to undergo reverse osmosis procedures, the quality of the water that is filtered may be very different. That's because of the filtration stages that the water undergoes.
Make sure that you go for those filtration systems that have various purification stages to ensure that your water is cleansed and safe to drink.
Perhaps one of the main reasons why we want a tankless RO system is that it's convenient. Since you're already on that path, why not maximize it and go for those systems that are equipped with additional features like water pressure gauge or filter life indicator?
Is distilled water the same as reverse osmosis water?
Distillers attempt to purify water by removing unwanted minerals. One quick example is sodium. However, distillers are not capable of removing other harmful chemicals.
Lots of cities around the globe use chlorine or chloramine to purify the water. If you want to drink water directly from your faucet, don't expect distillers to cleanse it. Removing chemicals like these is a job for reverse osmosis systems.
Does reverse osmosis waste water?
No water is totally wasted by RO systems. Only the amount of water produced changes. Reverse osmosis systems cleanse the tap water in the same way that we clean our dishes and clothes. It needs water to get rid of the impurities.
The amount of water purified, and the amount of water used to purify is indicated by the drain ratio of the different RO filtration systems.
How long will my reverse osmosis system last?
Proper maintenance of reverse osmosis systems allows you to use them for decades, provided that you replace filters when needed.
Usually, membranes can last up to five years. However, when the water it regularly purifies is riddled with chemicals, it may only last for three years or shorter.
Conclusion
This concludes the battle of the six best tankless reverse osmosis systems that you may find. After careful consideration of all the different features of these systems, we have concluded that the system that will give you the purest water is the Waterdrop WD-G3-W.
The fact that water filtration undergoes seven stages guarantees that the quality of water produced by this system is of topmost quality.
However, always keep in mind that what matters most is what your home needs. Once you've determined what that is, it will be effortless to find the water filtration system for you.
For now, we leave you with a simple wish: May you always have the purest water you could ever have!