Tired of that bulky traditional water dispenser taking away the beauty of your kitchen? You know you need hydration, but is there a way you can have clean water minus that big, blue, plastic water jug?
They say that necessity breeds invention, and there is no better saying to explain the use of plastic than this. However, if you're among the growing number of people concerned enough about our planet to lessen their plastic use, then you'd love to have the best bottleless water cooler for your kitchen.
Now, what is it really? A bottle-free water cooler is a straightforward piece of device that filters and dispenses clean water. Unlike traditional models, though, it doesn't use a bottle. Instead, it connects directly to your waterline, making it much easier to gain access to fresh drinking water free of contaminants.
A Quick Comparison of Our Favorites
The Main Benefits of Bottleless Water Coolers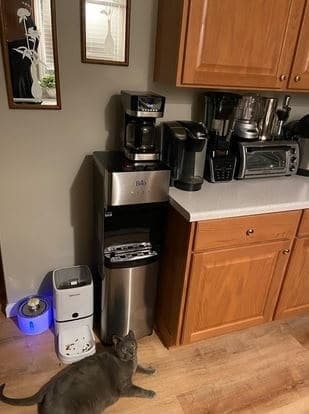 Why Make the Switch?
Not yet sold into buying one? To help you decide, let us talk about the benefits it offers. Aside from making sure you get clean drinking water, what else can you gain from investing in this special device?
Unlimited Supply
Have you ever experienced running out of bottled drinking water? Perhaps you forgot to stock up, or you're too busy to run to the store to get some. Drinking out of the tap is just not an option since it probably isn't safe; after all, you don't know what contaminants are in it.
With a POU water dispenser, you won't ever have to worry about that. As mentioned, it connects directly to your waterline, so you have access to a virtually endless supply of clean water.
Go Green
Plastic is among the leading problems of the modern world. If you'd like to do your part in making sure the next generation doesn't drown in plastic, investing in a bottle-free water cooler is the answer.
Saves Money
Because you won't need to buy bottled water to keep hydrated throughout the day, you'd be saving hundreds of dollars off of your budget. Sure, you'd have to shell out cash to buy this device, but it would be more than worth it in just a few weeks.
No Bulky Water Jugs
Most traditional dispensers use three- or five-gallon water jugs, which can weigh anywhere from eight to 40 pounds. Can you just imagine the strain on your back lifting that much weight can have?
With an on-demand dispenser, you won't need to lift such weights just so you can refill it. Another benefit is that you won't have to worry about storing these bulky water jugs, freeing space in your pantry or garage.
Updated list of the Best Bottleless Water Cooler Dispensers in 2023
A quick online search would show you hundreds of options when it comes to POU water dispensers. For someone not used to these machines, it can be challenging to select the best one for your needs. Lucky for you, you have us to help you out.
With our expertise on this matter, we narrowed down the choices to the top 6 models. We'd give you a detailed review of each one so that you can decide which meets your needs the most.
1. Avalon A12-CTPOU Countertop Bottleless Water Dispenser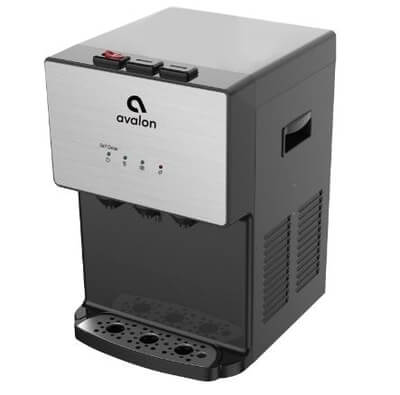 Let's start with the Avalon A12-CTPOU. When it comes to water dispensers, you really can't go wrong with Avalon. This brand has been in the hydration equipment industry for more than a decade, so you know its products are of the highest quality.
What does it offer?
NSF-certified dual filtration
Three temperatures
Countertop bottle-free design
Self-cleaning ozone function
Child-safety lock
Built-in nightlight
UL and Energy Star approved
Will it meet your needs?
Looking at its list of impressive features, there's no question that this unit packs a lot of punch. This is the reason why it is one of the most loved models of POU water dispensers today.
Apart from the fact that it doesn't use bottles, it also comes equipped with a sediment filter and a carbon block filter. These will ensure that you have clean water for up to six months before needing replacement.
For a personalized drinking experience, this unit dispenses cool, crisp cold, and piping hot water. A child-safety lock is also added to lessen the risk of accidental burns. What's more, it also self-cleans, keeping bacteria and germs at bay.
Pros:
Compact and easy to install
Includes a full installation kit
Convenient and safe to use
Quick refill time
Looks good on the kitchen counter
Helpful customer service
Cons:
No customized temperature control
2. Brio Moderna CLPOU720UVF3 – UV, Point Of Use with Filtration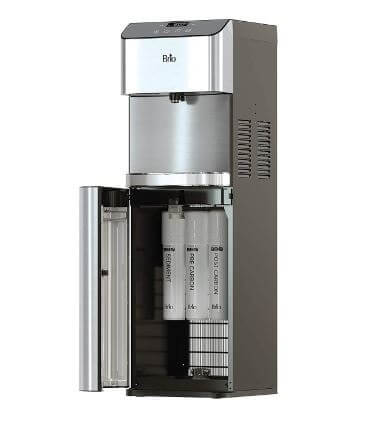 Brio is yet another well-loved brand. And what makes its products an excellent choice is that it doesn't take away but instead adds to the overall look of the room.
Here are its impressive features:
Free-standing bottleless construction
Personalized temperature control
Child lock
Built-in digital nightlight
Digital clock
LED technology UV care
Stainless steel body
Premium filters
Let's talk more about what it can do…
Those who tend to be very specific about the temperature of their water will absolutely fall in love with the Brio Moderna Bottleless Water Dispenser. As of writing, this unit is among the few that allow you to set the temperature of your water down to the degree.
Indeed, this is innovation in actual shape and form.
What's even more impressive is that it comes packed with features that will make your life more comfortable. These include a built-in digital clock as well as a digital nightlight. The addition of a child lock for safety also ensures the worry-free use of this unit.
With its stainless steel body, this unit is sure to add beauty in simplicity to any kitchen. It self-cleans, too, so you can rest assured that your machine won't be breeding ground for bacteria. Lastly, the high-quality filters guarantee that you and your family only drink purified water.
Pros:
Quick and easy assembly
Dispenses delicious, fresh-tasting water
For residential and commercial use
Touch-responsive buttons work well
No noise
Cons:
3. Avalon A7BOTTLELESS Touchless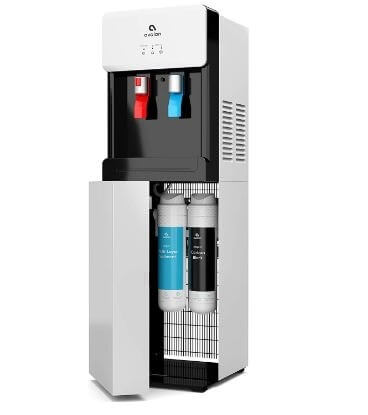 The Avalon A12 is a good choice in itself, but if you prefer a free-standing unit instead of a countertop one, we recommend you look into the Avalon A7.
What makes it an excellent choice?
Stand-alone bottleless design
Plastic construction
Complete installation kit
Highly efficient compressor
NSF-certified activated carbon filter
Self-cleaning ozone function
UL-listed and Energy Star-compliant
Removable drip tray
Built-in nightlight
Will it live up to its reputation?
The Avalon A7 differs from the A12 in that it is a stand-alone unit. This means that it won't take up counter space. Regardless, you would still experience the same convenience as you would with the A12.
Because it's made of plastic, it is more lightweight than other options. This also means that it's more affordable. Nevertheless, it doesn't compromise on added features. It works via a highly efficient compressor and is equipped with an activated carbon filter. With this combination, you won't have to worry about running out of clean water for drinking ever again.
Your household's safety when using this unit is also guaranteed. This is thanks to the child-safety lock and the fact that this model complies with the quality and safety standards of Energy Star and UL.
With all of these features and benefits in a budget-friendly unit, what more can you ask for, really?
Pros:
Setup is easy
Accommodates large cups
Fits most water supply lines
Includes everything needed for installation
Available in black or white
Clear assembly instructions
Cons:
No temperature adjustments
4. Brio CLPOU520UVF2 – Hot Cold & Room Temperature with 2 Free Extra Replacement Filters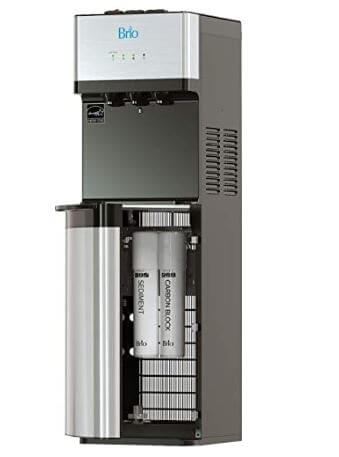 If you liked the first Brio unit we featured but find that it's too expensive for your budget, check out this other model. It has most of the same features as the previous one, save for the customizable temperature control.
Here's what makes it stand out:
Stand-alone POU design
UV care self-cleaning function
Premium two-step filtration
Three temperatures
Installation kit
Child-safety lock
Removable drip tray
LED digital nightlight
Includes an extra set of filters
How will its features benefit you?
Not sure if a plastic appliance is what you need? Let the beauty of this stainless steel water cooler add to the overall look of your kitchen. It is a free-standing unit, so it would complement your modern space nicely.
Inside, you'll find two filtration systems—one that filters out sediments and another that gets rid of odor, smell, and hundreds more contaminants present in tap water. You'll like that it cleans itself, too, so you won't have to worry about germs and bacteria accumulating.
For even more ease of use, it has a LED digital nightlight that lets you fill your cup even in the dark of night. The risk of accidental burns is also lessened, thanks to the child-safety lock on the hot water spout. Lastly, it also has a drip tray that catches spills. This tray is removable, does not rust, and is made of BPA-free material.
Pros:
Impressive customer service
Works like a charm
Visually appealing
Comes with a very helpful manual
Produces great-tasting water
Cons:
Heavier than other options
5. Clover D1 – Countertop Bottleless Water Dispenser
Backed by 25 years of experience in designing and manufacturing hydration equipment, you can trust that Clover only delivers the best of the best. In fact, it is a well-loved brand in more than 50 countries across the globe.
What features does it offer?
Stainless steel tanks
Metal external body
Patented child-safety protection
Emergency shut-off system
UL-listed, Energy Star-rated
Removable, dishwasher-safe drip tray
Let's get into the details of each..
Perhaps this unit's highest selling feature is the fact that it's only 17.2 inches tall, allowing you to place it on your countertop without looking too bulky. The spouts are easy to use; you only need to push it, and the water comes out at an impressive rate. It can fill a 16-ounce cup in under eight seconds.
For safety, the hot water faucet has a patented child-safety lock. This effectively lowers the risk of burns. What's more, the emergency shut-off system ensures that there are no leaks.
The issue with this model is that it's only a cooler/heater. Compared to its counterparts, it doesn't come with a built-in filter. As such, you would need to connect it to a water line with a supply that's already purified and clean.
Pros:
Fast water flow
Deep fill area
Does not give water an off taste
Looks sleek and modern
Cons:
Does not come with a filter
No installation kit included
6. Aquverse A6500-K Bottleless Water Cooler with Filter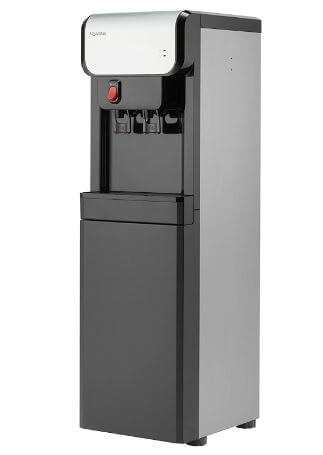 From single-serve brewers to bottle-free coolers, Aquverse has it all. The A6500-K, in particular, is a favorite of many. The reason? It's made durable enough to be used both in commercial and residential settings.
Here are its excellent features:
High-efficiency compressor
Hot and cold tanks
Metal body in black
Commercial-grade construction
Dual float backup system
Push-style faucets
Child lock
Removable drip tray
Complete installation kit
How does it fare against its counterparts?
The first thing you will love about this model is its cold-rolled metal body, which boasts being seven times more durable than stainless steel. It comes in a black finish that is both smudge- and fingerprint-resistant, so it always looks clean.
Another impressive feature is the highly efficient compressor that ensures it will last longer than your average water cooler. You'd also be thankful for the dual float backup system. This is a thoughtful addition that effectively prevents leaks.
Using it is straightforward, too. More than easy and simple operations, it comes with a child-safety feature, as well. Like other models, it has a drip tray that you can remove and wash in the dishwasher.
Pros:
Easy and quick to install
Lightweight
Great value for money
Withstands heavy-duty use
Filters out impurities effectively
Cons:
What to Look for Before Buying
Have you finally decided to buy a bottle-free water cooler? That's great! To help with your decision, here are the top things you should keep an eye out for:
Countertop vs. Stand-alone
First, you would want to choose whether you prefer a countertop or stand-alone model. Obviously, this would depend on the size of your kitchen and how you want it to be set up. Whichever type you pick, make sure that the location is near a wall outlet.
As evidenced in the units we reviewed, you will find bottle-free water dispensers with two, three, or customizable temperature settings. Naturally, the latter would be more expensive, so you might want to take that into consideration.
Safety and Health Features
A child lock on the hot water spout is one of those features that you really shouldn't disregard. Whether you live with a child or not, this simply guarantees that there is a lower risk of accidental burns.
Moreover, you might want one with a self-cleaning function. This guarantees that the machine itself stays clean and free of bacteria and germs.
Ease of Use and Installation
Check if installing the unit will require the help of a professional so that you can add that to your overall budget. Furthermore, make sure if it comes with a complete installation kit. In this way, you won't have to go buy one separately.
Also, keep in mind that you would be using this machine several times a day. What's more, if you place in an office or commercial establishment, it would be used even more. Not only does it have to be user-friendly but also durable enough to last years of heavy-duty use.
Lastly, you'd want to set a budget and stick to it. This machine can be expensive, so you'd want to make sure that you choose a model that gives you the best value for your money. Those with more advanced features would obviously be costlier.
Take into account each feature and decide if you really need such. If not, perhaps you could make do with a more budget-friendly option.
Conclusion
We all know that keeping our body hydrated is important; it helps make sure our mind and body are healthy and functioning at its best. To get access to clean and fresh drinking water whenever you need it, the best bottleless water cooler is the answer.
From the choices presented above, we love the one from Brio Moderna the most. This is mainly because it lets you set the temperature for use in making coffee, juice, or tea, and even for instant ramen!
Then again, this Brio Moderna unit can be tough on the wallet. For a more pocket-friendly option, we recommend checking out the Avalon A7.
Compared to the one from Moderna, it only offers a limited number of temperatures. However, it does have all the important features, such as a high-efficiency compressor and self-cleaning function. What's more, it is both Energy Star-compliant and UL-listed.
In the end, the decision rests on your shoulders and yours alone. Make sure that you go through the buying guide we shared above, and we're confident you'd find the right model for your kitchen.