A reverse osmosis water purification system is a popular water filter system used in both residential and commercial establishments. It can remove almost all types of bacteria and water impurities.
Over time, there has been an increased need for this type of this water filter system. And for this reason, manufacturers have tried to create more variations of the system.
In this post, we'll go through the tankless RO systems and systems with a tank to help you understand the difference. You'll learn how they work as well as their pros and cons.
If you want to know which of the 2 systems fits your household best, keep on reading!
RO Systems with a Tank
Reverse osmosis systems that come with a tank are also referred to as traditional RO systems. And as the name suggests, these water purifiers store the filtered water in an airtight tank for easy drinking.
How Does It Work?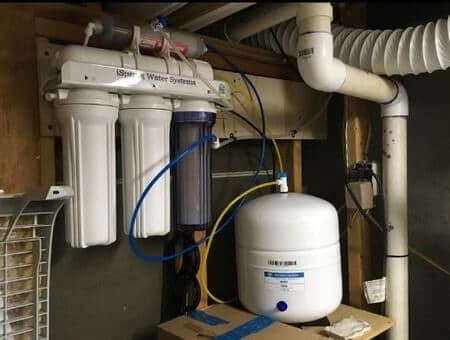 Reverse osmosis systems with tanks store filtered water in storage tanks until there's a demand for it. The airtight tanks store not only water but also pressurized air.
The pressurized air enables the tank to help the water filter system deliver clean water on demand without a booster pump.
The tank has a water chamber and air chamber divided by a bladder. When the filter system begins to feed water into the tank, the air inside gets compressed due to the extra weight from the water.
And when this air gets compressed, the pressure inside the water tank increases too. It propels the water out of the tank and to your faucet.
Turning on the faucet gives you access to this water.
The reverse osmosis tank performs 2 special functions. Aside from delivering clean and pure water on demand, it monitors the system's line pressure and maintains pressure throughout the filtration system.
Advantages of RO systems with Tank
The biggest advantage of these systems is that they filter water in advance and store water in the pressurized tank. This way, you can get water directly from the tank.
Pros
Stores water for later use
More affordable than tankless systems
Doesn't require you to buy a booster pump since it's pressurized
Convenient to get water
Widely available
Stores clean and purified water that you can access with ease in case of emergencies
Doesn't require a power supply
Cons
Usually bulky and require more space to set up
The water may taste off if stored for a long time
Secondary pollutants can stem from the sealed tank
Tankless Reverse Osmosis System
Tankless reverse osmosis systems are actually the latest additions to RO systems available today. These systems don't come with a water storage tank but use an advanced filtration mechanism to enable instant pour and drink without waiting.
How Do They Work?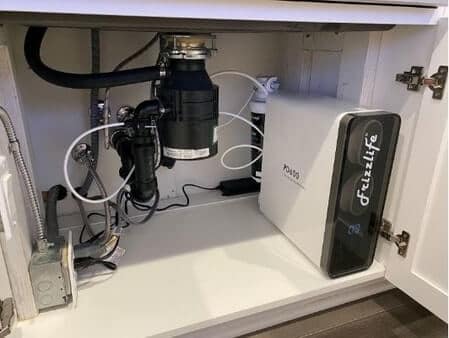 Tankless RO systems work almost the same way the traditional models do. The only difference is that they don't come with a tank hence no storage space for the water.
These models were designed to provide the same level of water purification as traditional systems while taking less space. They also purify water as needed and not letting it sit in a tank.
These systems are smaller than the conventional models. They also use multiple membranes to effectively filter impurities from the water, unlike the traditional models that only use a single RO membrane.
And since these models don't come with storage tanks, they solely depend on incoming water pressure to push the water into the filtration medium.
For a tankless RO system to operate effectively, the water pressure in your home must be high enough. If low, you'll have to install a separate pressure pump to address the problem.
Advantages of Tankless RO Systems
The biggest advantage of tankless RO systems is that they eliminate the storage tank, which saves a significant amount of under-sink space.
Pros
Much smaller hence fit well under standard kitchen sinks
Have no storage tanks and therefore no secondary pollution?
Since the water is not stored in a tank, water from this system fresher
Produce less waste water than traditional models
Produce water only when it's needed; hence economical
Are easier to manage
Deliver refreshing water instantly
Cons
Quite expensive
Filter replacement and maintenance can be costly
Require electric power to work
Without a storage tank, a tankless system can store water for use in case of emergencies.
Which is the Best System, With Tank or Tankless?

Both systems work great and will help get purified water at the end of the day. However, what to settle for will depend on a number of things. For instance, if living in a small apartment, however much you'd like to get a traditional RO system, it might not work for you because of the limited space.
Tankless water systems are 99% bacteria-free. The problem with tanks is that without regular maintenance, algae and bacteria tend to grow, making your water filthy and unhygienic.
If living in areas that experience water shortage from time to time, an RO system with a tank might be the best. Should the water supply run out, you'll have some water in the tank to take you through the period.
Also, if working on a tight budget, an RO system with a tank might be your best bet. You'll get it at a much lower price when compared to a tankless model.
Conclusion
Both the tank and tankless RO systems are great water purifiers and work effectively to ensure that you get a constant supply of pure water. If you are looking for an economical water purification system and have enough money to spare, go for a tankless RO model (NSF/ANSI 58 & NSF/ANSI 372 Certified Waterdrop WD-G3-W, Check price on Amazon).
The small size of tankless RO systems also makes them suitable for small families living in apartments. People who want to save on space but still enjoy an extensive filtration process (Frizzlife RO with Alkaline Remineralization, Check price on Amazon).
On the other hand, if you're tight on budget and looking for an affordable RO system, one that offers low-cost filter replacement and a continuous supply of water, get an RO system with a tank(traditional RO). (iSpring RCC7AK, NSF Certified, 6-Stage RO Under Sink, Alkaline Remineralization, pH+ RO Water Filter System, 75 GPD Superb Taste Drinking Water Filter, Check price on Amazon)