What are the best water filters that Really remove the fluoride to protect You and your family?
Now that many people have understood the dangers of fluoride to the health that is the most popular question. Luckily for you, you've come to the right place.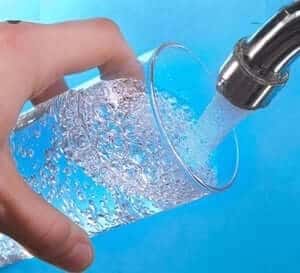 Fluoride is one of the most harmful chemicals, even when it is in low amounts and when it is added to the water supply, it becomes harder to monitor how much you take in on a daily basis.
You can end up taking in more than you are supposed to, especially in the case of children and people with the special nutritional requirement.
This is why you need the best fluoride filter to help you go fluoride-free. This informative article would expose you to the best water filters to remove fluoride, either to be used in your home or office.
If you're in a hurry, here's a summary of our top suggestions. Furthermore, if you are looking for the details, simply scroll down and keep reading!
Also read- Best Water Filters For Well Water with Iron
Type of Fluoride Filters
There are four types of fluoride water filters, and in order to understand the buying guide, you must know them. We have the Reverse Osmosis filter, the Gravity-Fed system, the water filter pitcher and the distiller.
1. Reverse Osmosis
This is a very effective system to get rid of fluoride, but the downside is that it is very expensive and wastes a lot of water when filtering out contaminants.
Apart from this, you should consider the RO system if you can afford it because it is able to remove a diverse range of chemicals and pollutants.
How Reverse Osmosis woks?
This type of fluoride water filter works by sending the water through a process of different carbon block filters and a reverse osmosis membrane, hence the name.
The system is usually attached to the plumbing system in your home or office, and then makes use of water pressure to send the water through the system. The harmful chemicals in the water are sent down a drain.
2. Gravity-Fed System
The great thing about this type is that it doesn't need electricity to work. It just needs to be assembled and put to work. They are usually compact sized and portable, plus the filtration system is pretty easy.
They also usually have a high capacity, which means more water. Even with the straightforward filtration system, it is still very thorough and can remove a lot of contaminants.
How Gravity-Fed filters work?
A gravity-fed system is also a very simple system and uses an easy setup. The system is made up of two containers, with one container that is on top of the other.
The container has different filter elements that are used to filter out the harmful contaminants.
When you pour water into the container on top, gravity pulls the water down through the filter and then into the container in the bottom.
3. Water Filter Pitcher
As the name implies, this is basically a pitcher with a filtration process. It is ideal for small families, or if you live alone because it has a small capacity.
They also take a long time to filter out contaminants, but they are cost-effective. If fluoride is your only problem, or if you don't have a lot of contaminants, you should go for the filter pitcher.
How Water Filter Pitchers work
These type of fluoride water filters have a very simple operation. They are made of three parts; the filter, pitcher, and reservoir.
The filter is connected to the reservoir and then, the reservoir is filled water and then, the water passes through the filter which blocks the contaminants from going through.
The clean water is then passed into the pitcher. The filter gets clogged after a while, and so it requires frequent replacement.
4. Distiller
This can be seen as the cleanest form of water because it is completely thorough in its process and it is cost-effective.
Instead of purchasing bottled distilled water, you can buy a water distiller machine and reduce plastic waste while enjoying clean, pure water.
How does it work?
Unlike most other types of water filters, a distiller works in the opposite way. It removes the water from the contaminants instead of removing the contaminants from the water.
A distiller is like a kettle, it boils the water and turns it into steam; then it leaves the contaminants behind.
Distillers are also great because they remove bacteria and viruses. The steam cools down and turns back to water in another container.
What to look for Before Buying a Fluoride Removal Water Filter
From the reviews above, it is obvious that there are different types and brands of fluoride water filters, and when purchasing one, you must consider some factors and look out for some features.
As mentioned above, there are four types of fluoride water filters. You should consider the type you can afford, and if it would be able to serve you and your family.
Installation costs can be very intimidating so you should look out for the system that doesn't require hiring a plumber. There are a lot of DIY fluoride water filters available, like the filters reviewed above.
Like installation, maintenance costs can also be daring. Some filters need to be replaced constantly, and some are expensive. There are also water filters that don't need constant replacement.
Efficiency would reduce if the filters aren't replaced on time, so you have to take note.
Automatic Shut-Off Feature
Some fluoride water filters also have an automatic shut off feature that turns the system off once it has filtered out the contaminants, or once the capacity has been reached. This makes it easier to use.
Number of Contaminants Removed
Most times, our water is not only affected by fluoride but other contaminants, which is why when you're looking out for the best quality fluoride water filter, you should also ensure you purchase one that removes other contaminants.
Why a Fluoride Water Filter is Necessary
If you have high levels of fluoride in your water, then a fluoride water filter is very necessary. This is because drinking contaminated water or water with high levels of fluoride is very harmful to your health.
High levels of fluoride in the water cause dental fluorosis, skeletal fluorosis, adverse mental effects, hyperparathyroidism and fluoride poisoning.
It is natural to find fluoride in water; it can be in small or large levels. It is also usually found in municipal or city water because they believe it improves dental health.
The downside of this is that they usually put in too much, which is harmful to your health. Thus, a fluoride water filter is necessary.
Most fluoride water filters get rid of other contaminants apart from fluoride which is a plus. Each of these filters does a great job in removing fluoride effectively, though they all have their pros and cons. We hope this guide would help you figure out which is the best water filter to remove fluoride for you and your family.
1. Home Master TMAFC-ERP – Best Undersink Reverse Osmosis Fluoride Water Filter System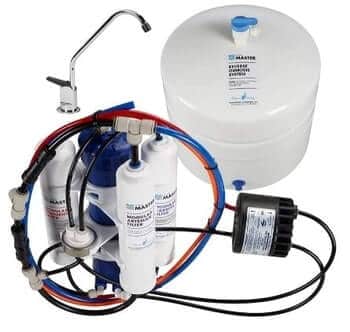 We suggest this Home Master TMAFC-ERP great under sink reverse osmosis water filter as it makes use of seven stages to remove fluoride and other chemicals while adding healthy minerals which are calcium and magnesium. it lasts for a very long time, and despite the seven stages, it works very fast which is why it is one of the more suitable under sink reverse osmosis filters for fluoride removal and to remove arsenic also.
This Home Master reverse osmosis water filter has a capacity of over 3 gallons, but it wastes a lot of water during the filtration process. In order to produce one gallon of clean water, it wastes four gallons of water.
Its unique modular design allows for a faster flow rate and increases water production.
If you're not comfortable with this Home Master TMAFC-ERP reverse osmosis system, you could purchase a water pump from the same manufacturer to reduce waste. Despite the problem of wastewater, this brand is still one of the best water filters for chlorine and fluoride.
The TMAFC-ERP also has an automatic shut off feature which turns the system off once it has reached its capacity.
The running cost of this system is also very low because the filters only need replacement once a year and it is very easy to install if you follow the instructions properly.
PROS:
Excellent filtration
5-year warranty
Durable
Low running costs
Long-lasting filters
Easy to install
A better RO system
CONS:
Quite expensive
Wastes water
2. APEC Water Systems RO-90 Ultimate Reverse Osmosis Drinking Water Filter System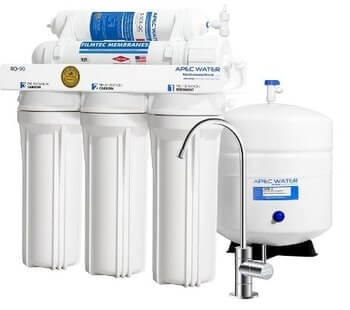 The APEC RO-90 System is considered the best reverse osmosis filter system for fluoride as it not only removes 99% of fluoride, but also removes up to 96% and above of other harmful contaminants like arsenic, chlorine, lead, fluoride, heavy metals, bacteria, virus, and more than 1000 contaminants
APEC Water System RO-90 makes use of an impressive five stages filtering method which is effective in leaving you with pure water. The last stage of filtration gets rid of tastes or contaminants in your water.
This five-stage filtration system has also merited the brand a WQA Cold Seal certification because of its efficiency, remarkable performance and structural stability. This is what makes it the best water filter that removes fluoride on this list and so we suggest that you consider this system.
The filtration system works in a sequential state as each system works related to other stages. The first filtration stage with high-grade and high-capacity polypropylene filters removes dust, particles, and rust. It protects and extends the life of the membrane and system.
The second and third stage utilizes premium extruded carbon block and gets rid of unpleasant chlorine, tastes, odors, cloudiness, and colors. It also removes VOC and other common chemicals from the water.
The fourth stage uses Industry's highest quality FILMTEC (DOW chemical) high rejection TFC reverse osmosis membrane. It removes up to 99% of Total Dissolved Solids (TDS) and contaminants such as arsenic, lead, fluorine, chromium, radium, bacteria, viruses and much more.
The fifth stage is powered by advanced coconut shell refining carbon; a Total Contamination Removal (TCR) filter removes any possible residual taste from the tanks making the resulting liquid clear and contaminant-free.
Not only is this a great reason why it is one of the best, but also because the reverse osmosis system is considered the best way to remove fluoride from water. Apart from being the best filter to remove fluoride, it is also the best water filter that removes arsenic.
The APEC RO-90 has twice the flow rate as other reverse osmosis systems, and it comes with a great one-year warranty; you get two years if you register with the company. The system is best used with tap water or well water. It is very easy to install and takes less than two hours to set up without professional help. Its easy design and simple organization make identifying and replacing filters intuitive.
PROS:
Excellent filtration
High flow rate
Simple design
Low maintenance
Cheap filters for replacement
One-year warranty (Two years if you register)
CONS:
The bad taste of water immediately after purchase
Unreliable customer care
3. Big Berkey BK4X2 Countertop Water Filter System – Best Gravity Fluoride Filter System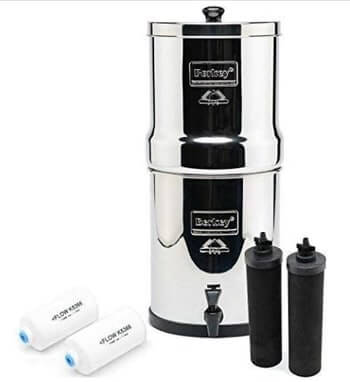 The Big Berkey BK4X2 is a countertop water filter system that comes with two fluoride filters for long term use, removing up to 95% of fluoride and other harmful contaminants, herbicides and pesticides. The filters are NSF-approved and with its elegant design, it is easily one of the best countertop gravity fluoride water filters.
This fluoride water filter system comes with a lot of environmental advantages which would benefit you and your pockets. We recommend this system because it doesn't need electricity to do its job, which means that you don't have to worry about the bills going up.
It also uses four stages to filter out fluoride from your water and has an efficient size of 2.25 gallons that should be enough for four people depending on your water usage. The BK4X2 is basically one of the best water filters that rid your water of fluoride.
The filters can last for up to two years, and it filters out more than 3 gallons of water every hour, and so you pretty much never run out of water. Not to mention that it is also portable because of its countertop design, meaning it saves space and you can easily move it if need be.
It doesn't require a lot of maintenance, and it's easy to assemble without the help of a plumber. With this top-rated fluoride water filter, you get to enjoy an endless supply of water without even bothering about electricity bills because of the gravity-fed system.
It has an immensely powerful system that can remove not only food coloring from water but also nitrates, nitrites, and unhealthy minerals while retaining the beneficial minerals your body needs.
PROS:
Portable
Easy to use, assemble and maintain
Durable and long-lasting
Great customer service
No electricity needed
Selective filtration
CONS:
A bit expensive
Inferior quality plastic
4. Aquagear Fluoride Removal Pitcher Filter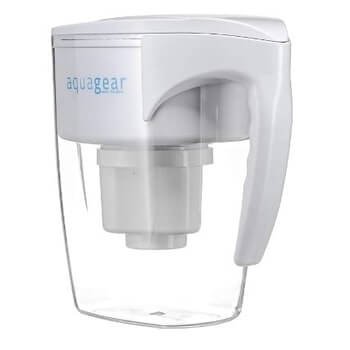 If you're looking for Best Cheap Fluoride Pitcher filter, something affordable, small and very easy to use, we recommend the Aquagear water filter pitcher. This best-rated model is great at removing pollutants in your water, so don't let the size fool you.
The Aquagear Pitcher filter is also easily recyclable and made out of BPA-free plastic, so when it's no longer in use, you can easily recycle it by sending it back to the company.
Before it gets to this point, it would take a long time as Aquagear is also very durable and can be used way longer than other water filter pitchers in the market, thus, making it the best water filter pitcher to remove fluoride.
The unique thing about this brand is the fact that while it removes harmful pollutants and minerals in your water, it retains recommended amounts of healthy minerals like calcium and magnesium. This selective filtration feature is one of the reasons why it is the best-rated water filter pitcher for fluoride.
The capacity of the pitcher stands at 8 cups or half a gallon. This is because it is not large and would need constant refilling unlike other types of fluoride water filters. Thus, this water filter pitcher would be ideal for small families or just to be used by one person.
At the same time, the pitcher also offers an attractive lifetime warranty, so if the model is defective, you get a replacement for free! Wonderful, right? Now you see why this is the best fluoride water pitcher filter.
PROS:
Effective filtration
Highly durable
Retains healthy minerals
Recyclable
Lifetime warranty
Triple Capacity Filters
CONS:
Small in size and capacity
No reminder for filter change
5. Woder 10K-FRM-DC Fluoride Filter- Unique 2-Stage Filtration Process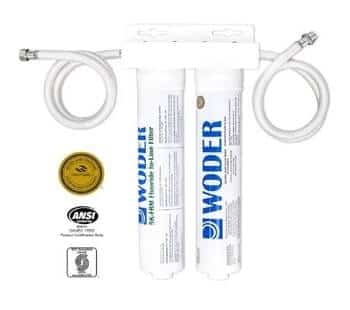 The Woder 10K-FRM-DC is more accurately described as a dual-stage fluoride removal filtration system for home & Business. We recommend this top-notch Fluoride Filter system because, apart from removing all the pollutants in your water and using the latest technology, it also erases any tastes and odors in the water.
Another great feature is selective filtration, which is its ability to filter out harmful minerals and chemicals but still retain healthy minerals in your water.
Although it is quite expensive, this is the most suitable water filtration system to remove fluoride.
The system can last for about two years, or 5,000 gallons, which is a long time to enjoy the filtration system. Its dual tank design means double the amount of water you would normally have, and so you never run out of the water to use.
It is also easy to install so you don't have to spend extra money on a plumber.
Woder 10K-FRM-DC also works better with city or municipal water but not well water. Also, it would not work efficiently when used with softened or salty water. Additionally, it is advisable to connect it to your cold water supply instead of the hot water supply.
With this in mind, the durability and efficiency of the filter depend on how well you use it.
PROS:
Large capacity
Easy and fast to install
Made out of food-grade materials
Highly durable
Excellent filtration
Long-lasting filters
CONS:
6. Waterwise 3200 – Best Fluoride Water Distiller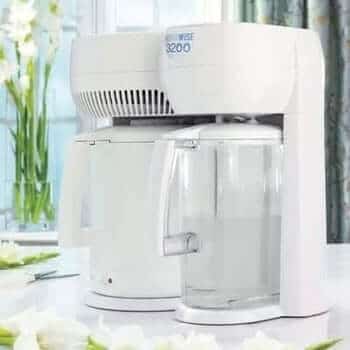 Waterwise 3200 is a most compact countertop Fluoride water distiller system, which means we already know that it is portable and compact sized. Apart from high levels of fluoride, it also gets rid of chlorine, chloroform, lead, nitrates copper, bacteria, sodium, mercury and other highly harmful pollutants in your water.
The Waterwise 3200 is subsequently the prime whole house filter to remove fluoride and chlorine.
An attractive feature about the Waterwise 3200 is the automatic shut off feature which turns the system off once it is done distilling one gallon of water; then again, the system makes use of electrical power.
Although that may be true, it does not consume a lot of power even though it uses about four hours to purify one gallon of water. After distilling the water, the system turns off. You can then distill another gallon of water if you please.
Before you think that this is too long for such a small amount of water, keep it in mind that the process is very efficient and gets rid of everything that could be in the water using the process of distillation.
The great thing about the distillation process is that it doesn't only get rid of chemicals, but also bacteria, viruses and any other thing that is in the water.
After the process of distillation, the Waterwise 3200 is so thorough that it still follows a charcoal post-filtration process to ensure the highest quality of the water.
The Waterwise 3200 also has two 1-gallon water collectors, so you can keep one in the refrigerator once it has been purified and put the other in the docking station to be purified. This way, you always have water.
It is also easy to use, and it provides you with very high quality which is why we included it as one of the best water filters for removing fluoride. If you're looking for a distiller to remove fluoride and other harmful pollutants in your water, we recommend the Waterwise 3200.
PROS:
High quality
Automatic shut off feature
Energy efficient
Two water collectors
Uses charcoal post-filtration process
CONS:
Filters need frequent replacement
7. Santevia Gravity Water System- Best Alkaline Fluoride Filter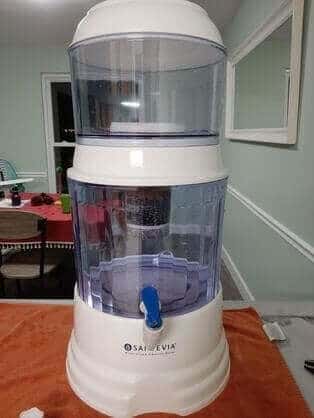 We present to you another compact-sized countertop fluoride filter which makes use of the gravity-fed filtration process. If you've been looking for an alkaline fluoride filter, then you must have heard of this one.
Santevia is the best water filter to remove fluoride and chlorine because it also improves the alkalinity in water apart from removing a large number of contaminants including microplastics and parasites.
Furthermore, this brand doesn't affect your water pressure and doesn't use electricity; which means you don't have to worry about extra bills because this fluoride water filter works with the power of gravity alone.
Apart from this, you can choose between the dispenser mounted system that doesn't come with a dispenser or the stand-alone countertop model.
The great thing about the Santevia Gravity Water System is that because it improves alkalinity, it is able to retain the right amount of healthy minerals when filtering out contaminants such as magnesium and calcium. Alkaline water also offers a lot of health benefits.
PROS:
Removes fluoride efficiently
Improves alkalinity in water
Filter lasts up to four months
Makes use of BPA and BPB free plastic
Retains healthy minerals
6-stage filtration process
CONS:
A bit expensive
90 days warranty
8. Propur Shower Filter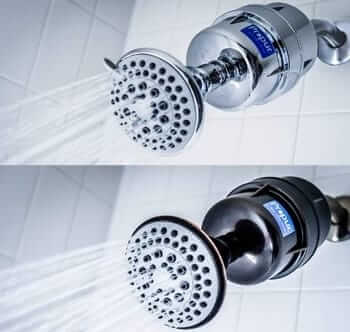 Apart from effectively removing fluoride, the Propur shower filter also gets rid of over 200 more contaminants in your eater using a four-stage filtration process, and additionally, it is the best shower filter to remove fluoride. It also has an impressive flow rate so you don't get frustrated in the shower because of low water pressure.
The Propur showerhead features five spray settings which improve comfort and gives you an enjoyable experience.
You also don't have to clean the filter, which means low maintenance costs, because the shower filter uses micro-pore filtration technology. This means it doesn't make use of resin beads yet it is still the best shower filter to remove chlorine and fluoride.
You can also choose between three finishes when purchasing the shower filter and the chrome version comes with a handheld wand.
Like most shower filters, the Propur fluoride shower filter is very easy to setup. If you follow the instructions properly, it shouldn't take more than a few minutes to remove the existing shower head on your shower, clean it and install the filter.
If you're worried about maintenance, you shouldn't be. The filter can last for up to nine months if used properly, and they are affordable to buy when you want to replace them. Apart from that, a replacement can be done easily and quickly.
PROS:
Effectively removes the majority of the contaminants
Provides high water pressure
One-year warranty
It is easy to setup
Increases ph
Increases water pressure
Ionizes and softens hard water
Made from BPA-free plastic
CONS:
Leaks might occur
Not very durable
Expensive to replace filters
In conclusion:
the type of fluoride water filter that you purchase depends on your needs, and so you should look out for the most fluoride water filter for you. From the best fluoride filter pitcher and the best shower filter for fluoride to the best water filter that removes fluoride, there is a diverse range of the best brands for you to pick from.
If you have a large number of contaminants or a small number, there is the perfect water filter for you. And if you only need one for yourself, or for a large family, you can get an ideal filter easily with this guide.
Our fluoride water filter reviews have outlined the best brand of water filters according to their types for easy understanding.
All you have to do is test your water for the type of contaminants you have to deal with, and purchase the fluoride water filter in order to protect your health.