Are you annoyed with mineral scale but hesitant to introduce salt into your water? Then, salt free water softener is an easy solution for you.
This type of saltless water softener offers much wider range of benefits over the conventional salt-based water softeners. In fact, it's a green alternative to the conventional salt-based water softener.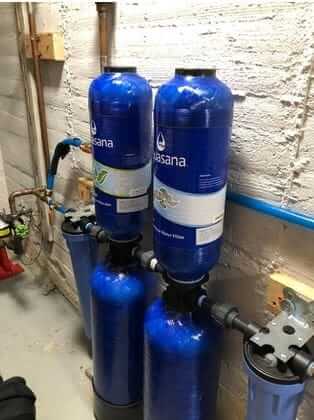 But here's a thing…
Not all water softeners are built the same.
Your unit must contain certain features to do an effective job at water softening.
And that's exactly what you'll find on this post — a guide on how to choose a salt free water softener that works efficiently.
So, if you want the best no salt water softener systems to ensure healthy water again, this guide was written for you.
Check the 5 best salt free water softener reviews below to pick the right one.
Here are the Best Salt Free Water Softeners to Buy in 2023
Our best non salt water softener reviews include these 5 models as the top choices. These are highly recommended considering features, performance and price.
1. Hardless NG Lotus Whole House Water Filter and Conditioner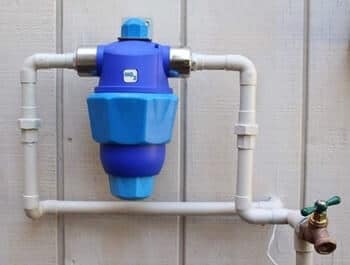 Hardless NG Lotus Whole House Water Filter is perfect for any size home. It conditions water to provide you high-quality, healthy water from every tap in your house.
What's great about Hardless NG Water Filter and Conditioner is it's for all water supply systems. It's designed to be used with municipal and well as potable well water.
Hardless NG Lotus is one of the most advanced whole house water filter. The unique design allows for maximum water coverage providing you conditioned water. Additionally, its 5 stage water filtration gives you the benefits of getting rid of the hardness in your water as well as removing sediment, chlorine, and other impurities.
This whole house filtration system meets the needs of clean and healthy for your entire family and accomplishes its task like larger unit but at a fraction of cost.
The Hardless NG Lotus conditions your water while keeping all the beneficial substances intact. Additionally, it helps to reduce water spots on your dishes and prevent soap scum on your tiles.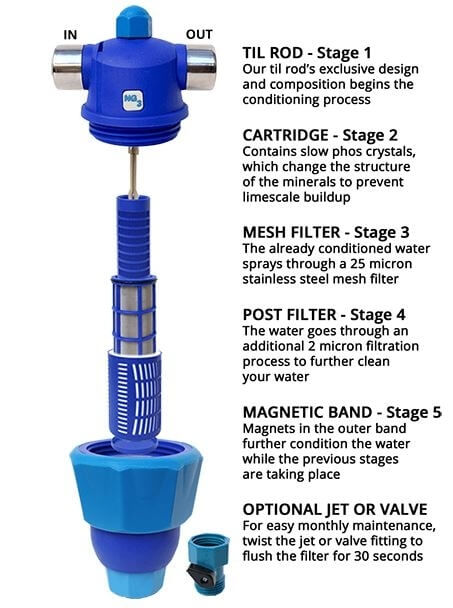 Pros
Compact and smart
Cost-effective
Easy to set up and maintain
Install outdoors or indoors
Blocks particles up to 2 microns
Prevents limescale
Eliminate water spots on shower doors, dishes, etc.
NSF and UPC Certified
Manufactured in the USA
Cons
The cartridge and post-filter need to be changed every 6 months
Bottom line
In summary, to keep everything in your house as green as possible, Hardless NG Lotus is a perfect choice. We highly recommend it to enhance water quality and taste of your household water. Literally it'll save hundreds of dollars of real money on your water bills. For the price and efficiency, this whole house water filter and conditioner is hard to beat.
2. Aquasana Whole House Water Filter System w/ Salt-Free Conditioner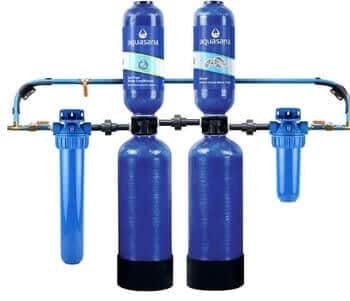 Aquasana offers this a smartly designed whole house filtration system that maximizes filtration for ultimate performance. And it does it jobs without the use of chemicals or salt.
What makes this product so attractive is the fact that it uses Aquasana SimplySoft technology. As a result, it naturally reduces and prevents hard water scale buildup on the pipes and appliance without the necessity of chemical or harsh salt. Thus it prevents corrosion in plumbing making it long-lasting.
What's more, the unique up-flow dual-tank design prevents clogging. The system is easy to set up and use. Thanks to filter and tanks of Aquasana water softener that are designed for easy and quick replacements.
When it comes to efficiency, this whole house salt free water softener removes up to 97% of the chlorine in regular tap water. Moreover, it decreases iron, rust, water-soluble metals, industrial solvents for 10 years or one million gallons.
Pros
Superior filtration
10 years warranty
Made in the USA
Tested and proven efficiency
Healthy, clean, great-tasting water
Easy to install, replace & maintain
Long-lasting filter
7 GPM flow rate
Cons
Not designed for Well Water
Expensive
Bottom line
In short, Aquasana Whole House Water Filter System not only provides healthy, great-tasting water but also protect your home and appliances. The only downside is it's somewhat expensive. But if you can afford it, you may find that it's worth every penny because of its efficiency.
Also read: Best Water Softener Resin
3. Nuvo H2O Dphb-a Home Water Softener System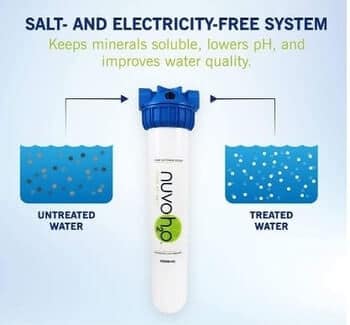 If you're looking for a best-rated, reliable and dependable home water softener system, then you've finally found it. NuvoH2O offers this 5 X 24″ eco-friendly, salt-free water softener.
This unit uses revolutionary water softening technology that lowers pH levels of water. It provides healthy water keeping the minerals soluble and unable to cause hard water problems.
This Nuvo water softener is also efficient in eliminating existing hard water scale and preventing scale build-up. Thus it extends the life of appliances, plumbing fixtures and water heater.
Another top aspect of this nuvoh2o home softener system is its compact design. It measures only 5 x 5 x 24 inches so you can fit it almost anywhere.
Pros
Eco-friendly
Compact design
Prevents scale build-up
Removes existing hard water scale
FDA & NSF approved
Cons
Not suitable for a large family
Bottom line
All in all, for soft and healthy for all of your household uses of a small family with 1 or 2 residents or up to 2,000 sq feet., Nuvo H2O Dphb-a is an excellent home Water Softener System.
4. Aquios AQFS220 Full House Water Softener and Filter System
Perhaps, you're looking for an all-in-one salt-free system at a reasonable price that both softens and filters water. Then this Aquios water softener AQFS220 is only product that might be perfect for your needs.
This unit is proven to remove and prevent existing limescale and other problems associated with hard water. It uses Salt free water softening technology to provide pure, clean, odor-free great taste water.
Firstly, it reduces and prevents limescale in water hardnes up to 517 ppm (30gpg). Secondly, it prevents iron staining and discoloration up to 5 ppm.
It features 5- micron coconut carbon block filter that removes chlorine odor and taste. Note that, this unit also effective in removing existing calcium scale.
The best aspect about this full house water system is it conditions water without removing beneficial minerals. It's also worth noting that it's a point of Entry (POE) system. Due to the design, it scores positive feedback from most of the buyers.
Pros
Designed for homes under 2500 sq.ft.
Sleek and compact design
Easy to install and maintain
12-15 gallons per minute flow rate
30 GPG (517 PPM) maximum water hardness
Cons
Plastic housing
Some customers report drop in water pressure and flow rate
Bottom line
The maximum hardness level that it can handle makes it one of the best no salt water softener systems available. Of course, the 12 to 15 gallons per minute conditioning capacity makes it perfect for larger families. In conclusion, Aquios AQFS220 is the healthier choice for you and your family for drinking water.
5. Triple Action Poly Salt Free Water Softener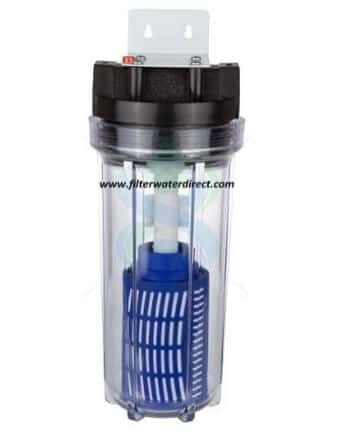 If you're looking for the best salt less water softener that's not only affordable but also functional and long-lasting without a lot of issues, this is it. In fact, it's a 3-in-1 compact water filtration system.
You may not believe it, but this triple-action unit comes with all the features of water filtration and hard water conditioning built-in. So, it performs three individual functions in single unit.
Firstly, it uses a hard water bullet that breaks down the calcium hardness into a softer form of calcium. The second step involves polyphosphate water treatment where the treated water goes through the polyphosphate filter. Then, the conditioned water passes through the 50-micron stainless steel screen filter.
Importantly, the built-in permanent 50-micron stainless steel filter eliminates the necessity of replacing filters anymore. Certainly, it makes the unit cost-effective. Finally, the 2 micron outer filter removes the iron and bacteria from hard water.
One of the best aspects of this water softener is it completely removes Calcium Carbonate without affecting the Calcium. That means you'll get all the health benefit of having minerals intact in softened water.
When it comes to durability, this unit seems to last many years. The high impact poly-filter housing makes it durable and rust-resistant.
You'll certainly appreciate that it's easy to disassemble and service. What's more, it comes ready to set up instantly.
Pros
Impressive performance
Highly efficient
Lightweight and Compact design
Versatile installation
Easy to install
BPA-free plastic body
Flow rate of 30 GPM
Replaceable media
Virtually maintenance-free
Cons
Not effective to remove chloramine and iron
Bottom line
Overall, for fast flow rate, compact size and affordable price, this unit is highly recommended for them who want an affordable yet efficient water softener system.
Best Salt Free Water Softener Buying Guides
From a lot of options available on the market, choosing the right salt less water softener can be challenging. To help you buy the best water softeners without salt, I've prepared this buying guide.
When you're planning to shop for a non-salt water softener, you need to consider some factors. It'll help you to know which model is right for you.
Nonsalt water softener systems use several methods to neutralize the compounds in water that make it hard. The technology used in water softener has a serious implication on the efficiency and performance of the unit. The output of a device heavily depends on the technology applied.
In general, there are four types of technologies that salt free water softeners use. In some technology, the microbes, chlorine and harmful particles are flushed out, whereas others dissolve any scale that may be embedded into the plumbing system.
When buying any water softener, selecting the right size is essential. You'll get one that can handle the demands of your household. However, it doesn't mean the physical dimension; instead it's the ability to remove "hardness" from water. Water softeners come with different flow rate and size.
Depending on the number of your family members and the hardness of your household water, you need to choose the water softener with the right flow rate and size. Remember, the low flow rate means less water pressure if you need to use water at one more point in your home.
Opt for easy to install and maintain a softener system. Compact and simple designs not only allow straight forward installation. Find out whether it offers DIY installation or you'll need a plumber or special factory service person.
Pay attention to the maintenance required for the unit. If you have the DIY experience, it'll also save you a technician or professional installation costs.
You won't be likely to buy a water softener each year. So, select a unit which is made of high-quality component and serve you for many years. Even if you need to spend a little more to buy a high-quality unit, it'll be cost-effective in the long run.
Find the best water softener brand. Consider the level of service, and, of course, warranty. It's wise to choose a renowned brand. That way, you'll get a quality water softener backed by an established brand.
Don't forget to look for the water softener certification. Remember that these certifications guarantee the unit's performance, but it ensures that the device has successfully passed tests for industry standards. What's more, it'll ensure you long term trouble-free service.
Conclusion
You've already known salt free water systems are rising in popularity for several benefits.
So, if you're considering buying the best water softeners that don't use salt, hope these 5 products are worth considering.
No matter which saltless water softener you choose on this page, you can rest assured that it'll serve you best.
However, we encourage you to research widely and understand each model before making the final buying decision to ensure it'll meet your demand.
We hope you found this best salt free water softener reviews useful.
Thanks for reading!