How sure are you that the water you're drinking is clean and safe to consume? When it comes to drinking water, especially those coming straight from our tap, we can't always be sure that it doesn't contain impurities.
In fact, it would be more accurate to assume that it's contaminated than to be confident about its quality.
Because of this, we tend to rely on the safety that bottled drinking water offers. Then again, stocking on bottles after bottles of drinking water only adds up to our household wastes.
Thankfully, you can always ditch buying loads of bottled water by using three- to five-gallon water containers instead. For this, though, you'd need the best bottom loading water dispenser self cleaning.
Aside from helping you lower your use of disposable bottled water, what else can a self-cleaning, bottom-loading water dispenser offer?
Well, for one, it makes it possible to hide that huge water container like what you would see in a top-loading unit. Because of this, it's a good choice for professional settings as well as clean and organized kitchens.
Also, you won't have to lift and flip the jug, so it's perfect for those with limited mobility and the elderly.
A Quick Comparison of our Favorites
Here are the Best Bottom Loading Water Cooler Dispensers in 2023
It is undeniable that water is our lifeline. We can give up food for a couple of days, but we can only last without water for a few. As such, it comes as no surprise that a water cooler dispenser is a good addition to any household.
To help you out with your search, we've scoured the online world to find the best of the best options to add to your kitchen. These are all from trusted brands, so you know that you'd be getting your money's worth.
1. Avalon A3BLOZONEWTRCLR Limited Edition Bottom Loading Water Cooler Dispenser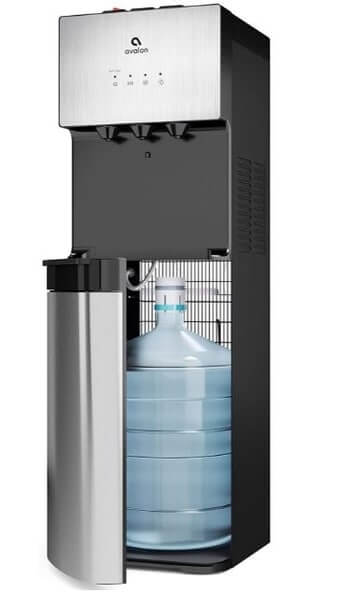 Back in 2008, Avalon first started as a distributor of appliances for breakrooms. Since then, it has become one of the best brands in the hydration equipment industry.
The Avalon Limited Edition Water Cooler Dispenser is one that is designed to be used in both residential homes and commercial spaces.
Let's check out its remarkable features to see if it's the right fit for you.
Hot, Cold, and Cool Water
Regardless of your drinking water needs, this Avalon unit has got your back.
It gets you your desired water temperature, from icy-cold and refreshingly cool to hot water that's perfect for a cup of joe or your favorite tea.
Built-In Nightlight
With your convenience in mind, this unit features a built-in light that helps you see the spouts at night.
What's more, you'd also find a light indicator that lets you know when the bottle is nearing empty and needs to be replaced soon.
User-Friendly Design
Not many of us are capable of lifting a three- or five-gallon water container.
If you're among the many who find it hard to lift heavy objects, this bottom-loading model is for you.
With this, you'd only need to carry the container from where it's stored and then to the unit. Aside from being convenient, this process lessens the risk of spills, too.
Child-Lock Safety Feature
Got young kids in your home? Not to worry!
This Avalon unit comes with a safety feature that locks the hot water spout to prevent children from playing with it and hurting themselves.
In addition to this, you can rest assured that this unit passed the high standards of both UL and Energy Star.
Basically Maintenance-Free
Among the top reasons why many are in love with this dispenser is its self-cleaning feature. By simply pressing a switch, the machine injects ozone into the water tank, thereby cleaning it and hindering the growth of germs and bacteria.
Pros:
Noise-free operation
Safe for children to use
For family or establishment use
Clean, stainless look
Has BPA-free plastic parts
Easy to load bottles
Cons:
Leaves a bit of water in the bottle
2. Brio CLBL720SC Moderna Bottom Load Water Cooler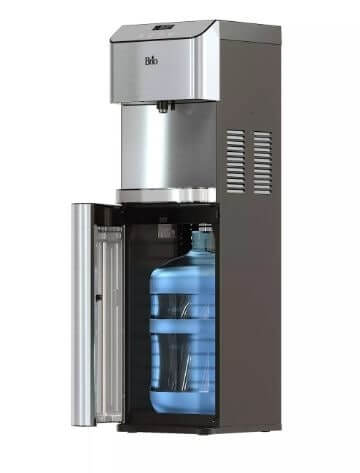 Next on our list is one from Brio, a brand known for its wide selection of high-quality water coolers and dispensers.
Brio offers both top-loaded and bottom-loaded dispensers and the one we're reviewing loads from the bottom for easier use. What else can this unit offer? Let's see.
Modifiable Temperature
Are you ready to go digital? The Brio Moderna Water Cooler Dispenser has got your back!
This unit lets you choose the temperature of your drinking water to satisfy your hydration needs. You can set it to be as cold as 39 F or as hot as 174 F, perfect for your coffee, cocoa, or instant soup.
Safety Lock
The Brio Moderna not only performs well, but it also helps prevent accidental burns.
For the safety of kids in your household, this unit comes with a safety lock button, which you only release when you need it to dispense hot water.
Whether you care to admit it or not, top-loading water-dispensing machines simply don't look as neat and sleek as their bottom-loading counterparts. More than looks, though, the convenience that this design offers is also something worth noting.
With the Brio Moderna CLBL720SC, you can rely on the machine's quick water pump to deliver your water at your desired temperature whenever you want.
For even more convenient use, this unit is equipped with an electronic display that lets you know if the bottle underneath is running out and needs to be replaced soon.
Nominal Maintenance
Similar to the first option, the Brio Moderna also employs ozone technology. This keeps the unit clean by sanitizing the water tank and ridding it of biofilms and bacteria.
We recommend activating this self-cleaning feature during the night when the unit will not be used for a couple of hours.
Long-lasting Construction
The Brio Moderna Self-Cleaning Dispenser is a sturdy machine that is made from the best stainless steel material. This makes the unit look sleek and modern while also ensuring that it will last for years.
Brio engineers also make sure each cooler is approved by Energy Star.
Pros:
High-tech electronic display
Modern and sleek design
Easy to operate
No-noise operation
Comes with an LED digital clock
Fits three- to five-gallon jugs
Fresh-tasting water
Cons:
Height is a bit shorter than other options
3. Avalon A6BLWTRCLRBLK Touchless Bottom Loading Cooler Dispenser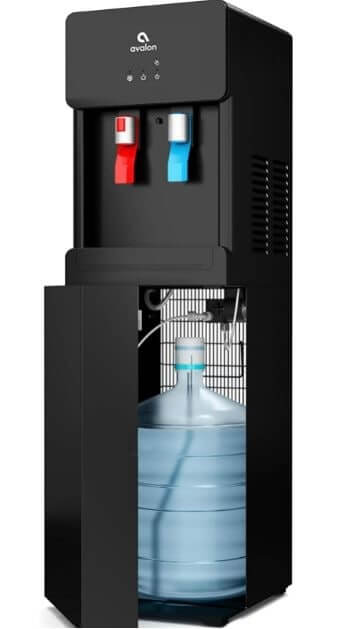 Being one of the most trusted brands in the United States, you can trust that Avalon delivers on its promise of quality products.
For this reason, it comes as no surprise that this third option on our list is another one of their highly-rated water cooler dispensers. Let's take a closer look to see why it's worth investing in.
Hot and Cold
When it comes to the Avalon A6BLWTRCLRBLK, you've got two options: coffee-ready hot water or ice-cold water.
What's great about this unit is that you can get this without needing to touch the machine. This makes everything more sanitary, both when you use it in the house or the office.
Safe for Kids
This unit is both UL and Energy Star-approved, ensuring that it meets the industry's standards.
You'd find that the hot water spout has a child lock, so spills and burns are prevented.
Stylish Design
Worried about where to put your water-dispensing machine? This Avalon unit fits even in small spaces. At the same time, it also adds beauty to the overall décor of the kitchen.
Night Light
Are you one of those people who wake up in the middle of the night thirsty? This Avalon water dispenser could just be the buddy you're looking for.
This unit features a night light so that you won't have to turn on the kitchen lights when you need a drink in the middle of the night. With this, you can be sure that there'd be no spillage.
You'd also be notified when it comes time to refill or replace the bottle, thanks to the indicator light on this unit.
Spill-Free Water Bottle Replacements
Make your everyday life easier with this bottom-loading model. With this, you won't have to lift a heavy water bottle a few feet up just to refill your dispenser. This can fit three- to five-gallon water jugs.
Pros:
Easy press spouts
Can be set up in minutes
Consistent temperature
Stylish design
Space-saving build
Cons:
Switch at the back hard to reach
4. Primo 601090-SO One-Spout Self-Sanitizing Bottom Load Water Cooler Dispenser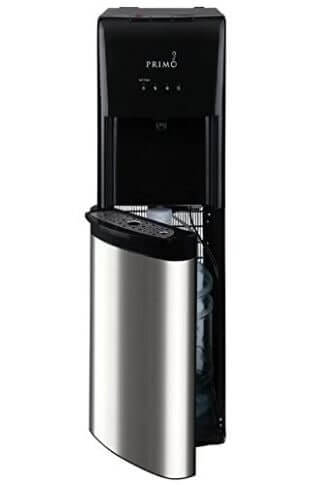 Choosing this Primo 601090-SO unit also means helping them with their goals, one of which is to minimize the impact on the environment by recycling and refilling empty bottles.
For every five-gallon bottle of Primo, you save up to 1,100 of single-serve plastic bottles from our landfills and oceans.
Primo Coupons
Every purchase of your Primo One-Spout Self-Sanitizing Bottom Load Water Cooler Dispenser comes with coupons for Primo water. It can be redeemed in any retail place.
One-Spout Two Temperature
What makes this unit different from the other options on this list is the fact that it only comes with one spout. This single spout, however, can deliver hot or cold water, depending on your needs.
For the safety of children in your household, it also has a safety lock feature that will prevent hot water burns.
Self-Cleansing
It's very important that we keep our drinking water supply clean and safe to drink. Thanks to this water cooler dispenser, you won't have to worry about that much.
Primo designed this unit to be self-cleansing, which means it sterilizes itself to get rid of bacteria and other contaminants.
You'd also find that it has a stainless tray to catch drips, and this tray is dishwasher-friendly for easy cleaning.
No Bottle Flipping
For easy refills, you can rely on this Primo model to be hassle-free. Because it's bottom-loading, you won't need to lift and flip the water bottle just to load your dispenser.
Certified Product
Primo makes sure that they are serving you with qualified products. A UL approved and Energy Star Rated.
Pros:
Easy to mount
Durable and stylish
Noise-free operation
Has a built-in light for night hydration
Cleans itself
Cons:
5. Whirlpool 218LIECH-SCSSFP5W Bottom Load Water Cooler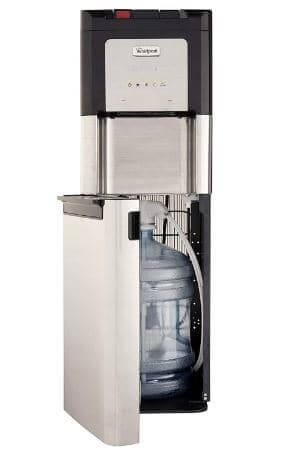 The Whirlpool Corporation is a top kitchen and laundry appliance company that is well-loved across many countries. For years, it has continued to grow and look for new opportunities to provide the best products.
One example of their innovation is the Whirlpool 218LIECH-SCSSFP5W Bottom Loading Water Cooler. Let's see what makes it stand out from the rest.
For safe drinking water, this unit cleans its own tank so that you won't have to, saving you time and energy so that you'd be able to do other tasks. This technology effectively gets rid of bacteria and other impurities.
Using this machine is easy and convenient, thanks to its LED indicator lights. It will light up to let you know when the machine is cleaning itself, as well as when the water is ready for drinking and at the right temperatures.
You can trust that your investment will last for years because of the overall sturdy construction of this unit. It boasts unbreakable faucets partnered with a sleek and heavy-duty steel frame.
Pros:
Clean and stylish look
Consistent temperature
No bottle lifting required
Cleans itself
LED and sound alert for bottle replacement
Child safety feature
Cons:
Doesn't have an On/Off option for the LED
6. Dekchokdee Water Dispenser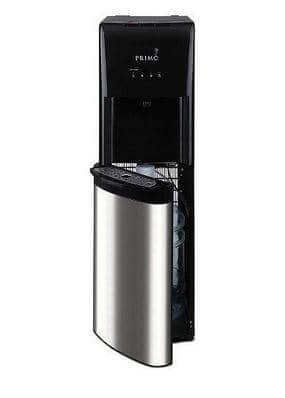 Dekchokdee's Bottom-Load Self-Cleaning Water Dispenser serves the best performance, thanks to its excellent features.
Offering durability that gratifies your home or workplace, this machine is undoubtedly a wise buy.
One-Spout Design
Regardless if you want hot, room temperature, or ice-cold water, you will get it from a single spout. This modern yet straightforward design is what makes it different from the other options.
Easy Bottle Refill
Bottom-loading dispensers like this one lessen the need for lifting and flipping a heavy bottle. In turn, spilling water on the floor is less likely to occur, too.
Touch Buttons with Child Safety
Getting this machine to work is a breeze, too. Simply engage by pressing the push buttons, and you're good to go. You won't have to worry about letting your child near it, too, as it's designed with a child safety feature to prevent hot water burns.
Indicator Lights
A light that shows when your hot or cold water is ready. It also shows when you need to refill your bottle.
Pros:
Easy to set up
Modern, contemporary look
Safe to use around children
Cleans the water tank and lines
Built to last for many years
Cons:
How to Choose a Best Water Dispenser for Your Home or Office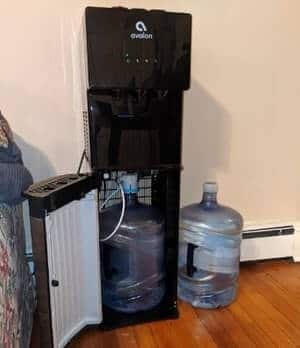 A water dispenser set up in your home or office breakroom is something your household or workmates would definitely be thankful for.
Fortunately, the market offers a wide selection, giving you more chances to find the model that's right for your preferences and needs. Then again, choosing only one from a sea of options can be tough and time-consuming. To help you decide, here are the factors to consider when buying one:
Before anything else, you need to decide on the kind of dispenser you want. Choose between a countertop or freestanding unit and bottom-loading or top loading water cooler dispenser. There are also point-of-use water coolers/dispensers, which you link directly to your home's water supply.
Your answers to these will depend on your personal preferences and specific needs.
Any one of these can be a great option, but if you ask us, we will go for the bottom-loading unit. This option allows you to enjoy the refreshing and delicious taste of filtered water without having to stock up on 500 ml bottles. Instead, you simply need to buy three- to five-gallon water jugs, load one into the machine, and you're done.
Nobody can deny the fact that these machines take up significant space in the kitchen. As such, you would be a hundred times better off if you choose a unit that is pleasing to the eye.
While those made of plastic also function well, if you're one to invest in looks and not just performance and durability, then go for a stainless unit. These options look more modern and cleaner, thus making your kitchen look even better.
The company from which you choose your unit plays a significant role in determining how long your unit will last. With a trusted brand, you can rest assured that your investment won't go to waste.
More often than not, to protect their name, they use premium-quality materials and employ tried and tested technologies. Reliable brands also offer warranties as well as maintenance services to ensure your unit functions at its best.
Finally, you would want to check the features that would make the unit stand out from its counterparts. For your reference, here are the most common features to make your everyday life more convenient:
When dispensing water into your cup, spills are inevitable. A drip tray prevents messes so that water won't spill onto the floor. Moreover, these are removable and dishwasher-safe, which means clean-up is a breeze.
If you're planning on setting up your machine in an office breakroom, you might want to invest in a model with a cup holder. This can either be external or internal, but either way, it promotes better organization.
To get the most out of your unit, find one that dispenses both hot and cold water. In this way, you can have clean water for drinking as well as for instant coffee and soups.
Hot Water Child-Safety Lock
For some reason, children find these machines to be fascinating machines. As such, they tend to want to play with the buttons and taps.
Obviously, this can be a very dangerous thing. If you live with a young child, look for a model that comes with a child-safety lock on the hot water spout.
Water attracts the growth of bacteria and mold, which is why you should always make sure that your unit is clean and sanitized. Then again, that means spending time cleaning and disinfecting it.
Fortunately, you will find models that come with a self-cleaning function. These would come with a button that you simply press to activate the cleaning mechanism. The machine would then clean the tank, as well as the lines in which the water passes through.
What is the purpose of a water cooler/dispenser?
A water dispenser is simply a machine that dispenses water. It provides households and offices easy access to clean drinking water, minus the need to buy hundreds of bottles every few days.
The great thing about it is that it cools down or heats up the water, depending on your preferences. So, if you need clean water to quench your thirst or prepare your instant coffee, a water dispenser can do it all.
Does it need electricity?
This machine uses electricity to heat up or cool down water. In fact, it eats up a big chunk of power as it constantly needs to alter the temperature of gallons after gallons of water.
If you're worried about your water consumption, look for a unit that allows you to turn off the heating and cooling function. In this way, you have a choice as to when you only want it to run.
How often should it be cleaned?
Even though the model you have comes with a self-cleaning feature, you would still want to have it cleaned every three to six months. Doing this regularly gets rid of mold growth, which is not only foul-smelling but also a breeding ground for germs and bacteria.
Does it save you money?
If you look at it in the long run, these machines will definitely save you money. How so? Well, instead of buying disposable, single-use water bottles, you'd only need to purchase reusable, large ones.
How do you clean a water dispenser?
Do you want to try cleaning your unit? You can do so by simply using boiling water and a clean, sanitized scrubber. Fill the water tank with hot water and have it run through the spigots.
Afterward, using a scrubber with a long handle, scrub every inch of the tank to get rid of the build-up. Once you're sure it's clean enough, drain out the water and rinse the water tank thoroughly before using it again.
Conclusion
A water dispenser would be one of the most used appliances in your kitchen. As such, the best self-cleaning Bottom Load water dispenser has to be convenient to use, has safety features, and sturdy enough to last many years.
From the list we have provided above, we hope you find the one that matches your preferences and needs. What's more, you can always rely on the buying guide to help you decide which one to choose.
In the end, the decision would depend on where you want to put your machine and, more importantly, if you have children in your household.