It goes without saying that keeping your body well hydrated is one of the best ways to fight off health issues. We are mostly made of water, which is why a lack of it in our system can cause many unpleasant symptoms.
Among the most common signs of dehydration are tiredness, dizziness, dry mouth, eyes, and lips, as well as a rapid heartbeat. These are just mild symptoms, too. Severe dehydration may also lead to fainting and seizures.
Obviously, you're here because you understand the importance of having readily available drinking water for you and your family. For hot summer days and cold winter nights, you can rely on the best top loading water dispenser to get you through.
A water dispenser is a useful home appliance that dispenses cold or hot water whenever you want to. It eliminates the need to store water in the fridge for a refreshing drink, as well as boiling water for your instant hot cocoa.
A Quick Comparison of Our Favorites
Here are the Best Top Loading Water Dispensers
Because of the convenience that comes with having a water dispenser at home, you can find a wide variety of it in the market. For this reason, it can be rather tough to find the one that fits you and your entire household's preferences and needs.
To help with your dilemma, we went ahead and scoured the web to find the best of the best top-loading water dispensers. We've narrowed down the choices to 10 options, we have reviewed below.
1. Avalon A1 Top-Loading Cooler Dispenser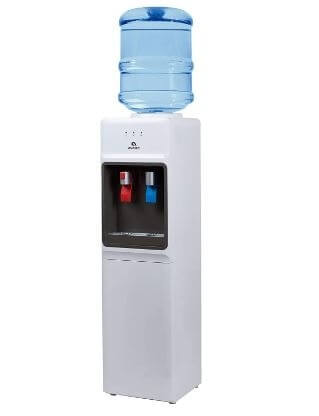 Avalon began its journey back in 2008 as a distributor of office and breakroom products. However, they found that most options back then weren't really that reliable. As such, they decided to venture into making their own water cooler dispensers.
From then on, Avalon continued to grow and now sits among the top brands in the hydration equipment industry. Their products are sold and used at both residential properties and commercial establishments in and around the United States.
This Avalon water dispenser lets you load three-gallon to five-gallon jugs from the top, depending on your needs. With this design, you can easily see if you're low on water—a feature that's useful for both residential and office settings.
Once you do notice that you've run out of water, just grab a new jug and load it up. This has a built-in puncture rod on top to prevent spillage.
Hot and Cold
Avalon is proud to say that this water dispenser offers either crisp cold or piping hot water. It has been designed to deliver consistent temperatures, so you won't need to use ice or boil water to make your drink.
Touchless Dispensing
For your convenience, this is designed to dispense hot or cold water without you having to touch any part of it. The paddle design means you can use your cup or mug to do the job for you. This lessens the spread of bacteria and germs.
Stylish and Slim
If you've got a modern interior, this water dispenser would fit right in your home. It boasts a sleek and slim look that won't eat up a lot of space. This makes it perfect for kitchens with limited space, such as those in office breakrooms.
Child Safe
This Avalon water dispenser is both UL-listed and Energy Star-approved. As such, you can be sure that it meets the highest safety and quality standards of the industry. It even has a child-safety lock feature to prevent the likelihood of hot water burns.
Pros:
Safe to use
Looks simple yet functional
Doesn't take up too much space
For home and office use
Works quietly
Cons:
Not enough seller contact info
Quality assurance issues
2. Giantex Top-Loading Water Cooler Dispenser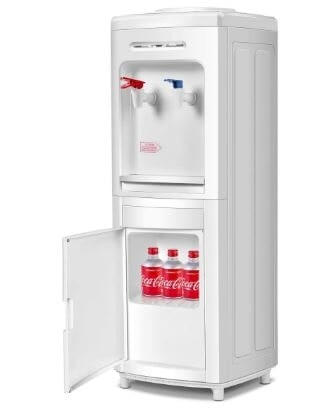 Next on our list is from Giantex, a brand known for its quality yet reasonably priced home products. From furniture to pet supplies to kitchen appliances, you can find Giantex products in countries across the globe.
User-Friendly Design
This Giantex water dispenser looks just like any regular water dispenser you've seen. As such, there's no denying that it's simple and straightforward to use.
You'll find two taps colored red for hot water and blue for cold water. Each one also features a LED indicator light to let you know if it's switched on or not. The cold water is anywhere from 42F to 50F, while the hot water is at 190F to 203F.
Energy-Saving Feature
With this unit, you get the option to turn on or off either the heating or cooling features or both. In this way, you can save energy on times when you really don't need to have hot or cold water.
Reliable Water Barrel Seat
For your safety, the water barrel seat is easily removable. Thanks to this feature, you can just disassemble and clean it whenever you want to. It is also designed in a way that it resists dust mites. It is also constructed to be durable enough to carry anything from a two-gallon to a five-gallon water jug.
Security Lock
For reasons unknown to many of us, children find water dispensers fascinating. As such, the hot water tap is equipped with a child-safety lock to avoid burns.
Storage Cabinet
What we find really useful with this unit is the built-in storage cabinet. It is the perfect space where you can keep disposable cups, stirrers, and more.
Pros:
Easy to keep clean
Small and practical design
Safe and durable
Low-profile look
No leaks
Cons:
Makes a little noise
Flimsy spouts
3. Costway 2-in-1 Water Cooler Dispenser with Built-in Ice Maker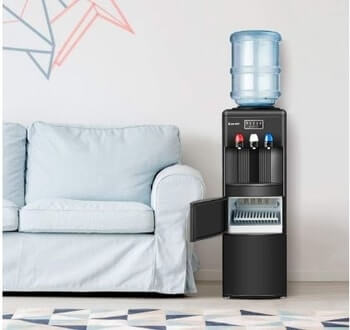 Since 2008, households have been enjoying Costway products. In fact, in just a little over 10 years, they are already serving up to 10 million families all over the world. What's even more amazing is that they sell premium-quality products at budget prices.
Whatever it is you need to make your life more convenient, from garden tools to DIY projects and kitchen appliances, Costway has got you covered.
Built-In Ice Maker
Obviously, the selling point of this water dispenser is its built-in ice maker. With this, you won't have to wait for hours just to have iced drinks.
For every six to 14 minutes, the machine can make nine pieces of bullet ice cubes. While the basket can only hold four pounds of ice, you can make up to 27 pounds of ice each day.
Elegant Look
Compared to regular water dispensers, this one from Costway looks sleek and modern. It would not take away from the overall look of the room, and it also wouldn't be a sore to look at.
You can find this water dispenser in three different colors: black, silver, and white. Its classy appearance makes it ideal for home, office, or public use.
User-Friendly Design
This water dispenser features LED indicators that let you know whether it's switched on or off. You will also know when it's making ice, heating, or cooling water by looking at the lights.
Aside from the LED indicators, you'd also find an easy-to-use control panel. Here, you can command the machine to make ice as well as heat up or cool down water.
Tri-Temp Feature
With your needs in mind, Costway designed this water dispenser to give out room-temperature, hot, and cold water. Obviously, some of us prefer drinking room-temperature water, and this feature solves that need.
Child-Safety Lock
Using this water dispenser in a household with kids is also worry-free, thanks to the child-safety lock on the hot water spout. This safety feature ensures that accidental burns are prevented.
Pros:
Does not leak
Quiet operation
Multi-functional design
Easy to clean
Requires little assembly and setting up
Cons:
Melted ice water does not re-circulate
Ice maker consumes too much water
4. Brio CLTL520 Limited Edition Top-Loading Water Cooler Dispenser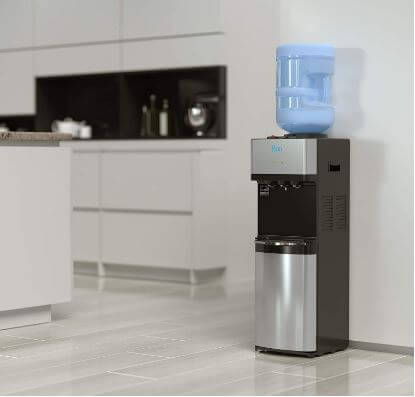 The convenience of having a water dispenser that delivers on its promise is what Brio offers. They have everything from bottom-load coolers to countertop coolers and bottle-less coolers. Their limited edition top-loading dispenser is perfect for homes, offices, and commercial spaces.
Stylish and Innovative Design
Unlike its plastic counterparts, this water dispenser from Brio boasts a stainless-steel body. Its clean and modern look makes it easy to place in any corner of your home, workspace, or business.
Hot, Cold, and Room Temperature
Again, you don't always need hot or cold water. Sometimes, you just want to hydrate and drink up without giving it a second thought. With this dispenser, you can have ready-to-drink room-temperature water anytime you want. Also, the hot water is hot enough to make instant soup, coffee, tea, or noodles.
Safety Feature
An essential feature that all water dispensers should have is a child-safety lock. With this, you can easily prevent burns by making sure tiny curious hands don't play with the machine.
Guaranteed Safe and Long-Lasting
Under its name, this Brio water dispenser boasts UL and Energy Star certifications. As such, you can be sure that it meets and exceed industry standards.
Pros:
Made of stainless steel
Prevents accidents
Has a removable drip tray
Open dispense point
Comes with a limited one-year warranty
Visually appealing
Cons:
5. Honeywell HWB1083S Commercial-Grade Dispenser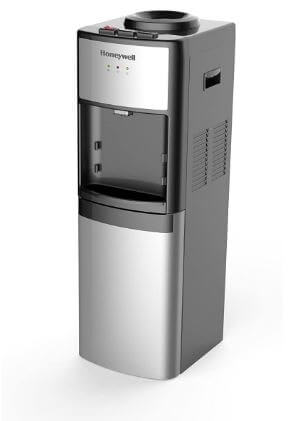 Lastly, we also found this commercial-grade dispenser from Honeywell. This brand proudly has more than a century of experience in finding innovative solutions to everyday problems. Their technologies are widely used across different industries.
One of Honeywell's proud creations is the HWB1083S. At first glance, it's easy to see that this unit is something that is going to be a great addition to any home, office, or business.
Contemporary Look
If you've got a modern, minimalist space, this water dispenser would fit right in. Its black and silver body looks like it's ready to get down to business as soon as you take it out of the box.
It also looks clean and classy, which is something that you won't easily find in a water dispenser. It's slim, too, so it won't get in the way.
Convenient Design
Similar to the others on this list, this Honeywell dispenser features a top-loading design, allowing you to see if you need to replace the water jug. This design is backed by an Energy Star certificate, so you can be confident that you're buying a quality product. Of course, it also has a safety lock to prevent accidental burns.
High-Quality Materials
This water dispenser is made of a combination of plastic, aluminum, copper, and stainless steel. All materials used in its production are guaranteed high-quality and food-grade. As such, the quality of water is improved. The machine also doesn't corrode easily.
Three Temperature Settings
To satisfy the varying needs of every member of the household, this water dispenser offers three different temperature options: hot, cold, and room temperature. It is capable of heating up four liters of water per hour (179F), and it can cool two liters of water down to 50F every hour.
Excellent Customer Support
For Honeywell, every customer matters. Hence, if you have any technical concerns, you can easily reach out to them and get the help you need. They can help you out via the phone or send out a technician to your home. Every purchase also comes with a one-year manufacturer's warranty.
Pros:
Easy and safe to use
Makes water taste better
Looks nice
Has a small compartment at the bottom
Cons:
Leak problems
Produces too much noise
Type of Water Dispenser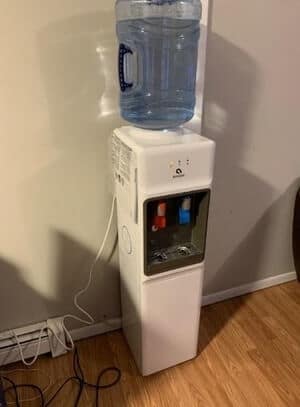 First and foremost, you'd want to look at the type of water dispenser that you need. There are many options available, from bottle-less to countertop water dispensers.
Bottleless
This type of water dispenser looks like your regular free-standing unit, but it's actually connected to a pipeline. Inside the machine is where you'll find the filtration system, so there's a good and clean supply of water whenever needed.
These are most commonly found in schools, offices, and industrial areas. For unlimited supply of filtered water, the right choice for you is the best bottleless water cooler. While it can be a bit costlier, its benefits will definitely outweigh your initial investment.
Countertop
Ideal for small spaces, this type of water dispenser can only hold a couple of liters of water. As such, it's only advised to be used in homes where there are limited occupants. For water supply, some models come with their own container, while others can be connected to a water line.
Bottom-Loading
If you're not fond of seeing a big water jug occupying your kitchen space, perhaps a bottom-loading water dispenser is right for you. This type of water dispenser "hides" the water jug in a cabinet below the spouts, so it all looks nice and clean.
Top-Loading
Finally, there are top-loading water dispensers, which the reviews above are all about. These are the regular water dispensers you'd find in homes, offices, and business establishments. Since the water jug is loaded on top and displayed for everyone to see, it would be easy to keep track of when you're running out water and need the jug replaced.
Buyer's Guide
Stocking up your fridge with bottles after bottles of water is not really a good idea—not for your wallet and absolutely not for the environment. If you want cold water to be available at a moment's notice, you'd want to invest in the best top loading water dispenser. What's more, it can also provide you with piping hot water for your instant coffee, cocoa, tea, or even soup!
If you're new to this, though, you'd find that the market offers an overwhelming selection of water dispensers. To find the right one for your needs, you need to know the factors to take into consideration.
Capacity
Once you've chosen the type of water dispenser you'd want for your home, don't forget to check how much water it can hold. Note that each person needs to drink roughly 3.7 liters (for men) or 2.7 liters (for women) of water each day.
Make sure that your water dispenser is capable of providing enough supply to accommodate each and every member of your household.
Safety
Water dispensers have this feature where it dispenses either hot, cold, or room-temperature water. For safety, you'd want to choose a model that comes with a child-safety lock on the hot water spout. In this way, you can be sure that accidental burns are prevented.
Overall Look
Of course, you shouldn't overlook how the water dispenser looks. You'd want it to match the interior of your kitchen. Take a look at the materials used in its construction, too. Obviously, those made of stainless steel would look more elegant and sleek than those with plastic parts.
Bonus Features
The technology that makes up water dispensers is ever-evolving, which is why you can expect newer models to come with amazing features. You will find some that come with built-in storage, while others are designed to make ice at the same time. Of course, these extras would also come with a price tag.
Scrutinize each feature carefully to know if that is something that you'd benefit from. In this way, you won't be spending too much on something that, in reality, you don't have any use for.
FAQs
Can water dispensers get mold?
Mold like damp areas, so anywhere there's water, mold can form. This means that your water dispenser can be a breeding ground for mold.
This health hazard not only smells foul but also spreads germs and bacteria. As such, you'd want to clean your water dispenser regularly. You'd want to get every nook and cranny, too, as mold like to develop in hard-to-reach areas. To be on the safe side, clean your water dispenser every three to six months.
Do water dispensers use a lot of electricity?
Water dispensers are designed to heat up and cool down water simultaneously and continuously. This means that it eats up electricity all day long. In fact, some models consume up to 1.6 kWh of power in a single day.
Then again, you will find water dispensers with a power-saving feature. With this, you simply switch off the heating and cooling mechanism when you know that no one would need hot or cold water in the next couple of hours.
Does a water dispenser purify water?
Looking at its name, it's clear that a water dispenser is a machine that is made to dispense water. You will find models that have a built-in water purifier, but not all water dispensers have this feature.
Is a water dispenser worth buying?
There are many reasons why you'd want to invest in a water dispenser, and most of them point to helping you and your family become healthier.
The key reason would be that it makes it easier for you to up your water intake. This is because having a water dispenser in your home gives you easy access to clean, drinkable water. When you do drink more water, you will lower your sugary drink intake.
With a water dispenser, you won't have to buy hundreds of bottled water each month and stock up your fridge with it. Instead, you can easily get a glass and pour yourself a refreshingly cold drink any time you want. Having a water dispenser also means you won't have to boil water for your instant coffee, cocoa, or tea!
How long does a water dispenser last?
Generally speaking, a water dispenser could easily provide five years of service. With proper maintenance and regular cleaning, it can even last longer than that.
This is, of course, assuming that you invest in a quality model in the first place. It would also help that you buy from a trusted brand, so you know you're getting one that meets industry standards.
Conclusion
Water dispensers provide a convenience that you just wouldn't be able to live without once you've had a taste of it. The advantages it offers far outweigh any drawback you might experience.
From the list we have presented above, our favorite would have to be the Costway 2-in-1 Water Cooler Dispenser with Built-in Ice Maker. Although it is more expensive than the other water dispensers we reviewed today, we think that the features it offers justify that high price tag. This model also checks off other factors worth considering when buying a water dispenser, such as a child-safety lock, durability, overall look, and capacity.