If you live in a hard water environment you definitely need a water descaler. It will help you prevent limescale from accumulating on your showers and sinks. Finding the best water descaler for you may not be easy now that we have several brands in the market. It's even much complicated if it's your first time ever to purchase a water descaler for your home.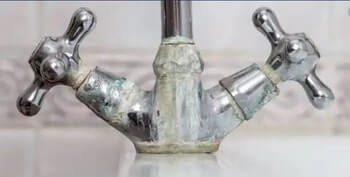 For that reason, we bring you an analysis of the top 7 electronic water descaler reviews from an expert's view. We have also included the pros and cons of each product that we reviewed.
This is to help you make an informed decision when choosing any of them. Here we go!
A Quick Comparison of Our Favorites
Best Electronic Water Descalers in 2023
To come up with this list, we've thoroughly researched and consulted experts to get their views on each product. We've also considered customer reviews. Should you purchase through our chosen links, we might receive commissions.
We hope that you find the best electronic descaler to improve your water supply's quality.
1. Capacitive Electronic Water Descaler System – Water Softener Alternative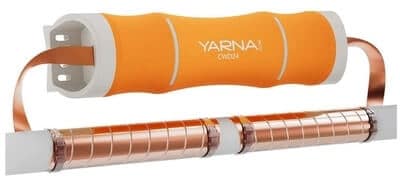 Do you have blocked water piping systems? Rust accumulation in the pipes? Yes? Then you need a descaler. And not just any descaler but this Capacitive Electronic Water Descaler by Yarna.
It is a patented whole house system that helps to reduce the effects of rust and limescale. This system uses electric impulses to prevent mineral buildup in your water pipes.
It is a computerized unit controlled by a microchip and transmits signals through coils that wrap around your water supplying pipe. With it, you'll never have to worry about water pipes blockage, rust stains, and limescale.
If you don't have a very big home, this descaler is a sure bet. It can supply about 3500l of water per hour and 15.4 gallons of water per minute, equating to around 5 to 7 dollars per year.
Another winning point for this unit is its cost-effectiveness. It only requires 120 volts power supply and consumes only 4 Watts of energy. Are you worried about installation costs? This shouldn't be a problem.
The unit is easy to install, even for beginners. You won't require any tools, and the support and guidance make it an effortless task.
Pros
It doesn't eliminate essential minerals
It's a salt-free system
Reduces bacterial buildup in the water
Works with any type of pipe
Cost-effective
Cons
2. AO Smith Whole House Salt-Free Water Descaler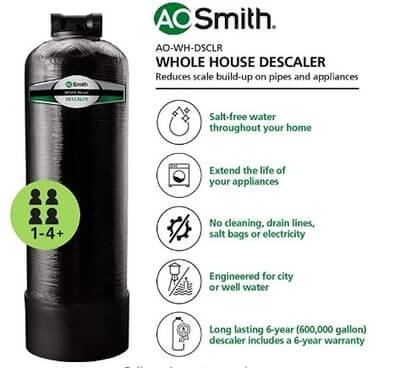 Are you Looking for a salt-free system to naturalize your water system? The AO Smith water descaler might be all you need. To begin with, it is designed with salt-free technology that allows you to naturalize your water without the elimination of healthy nutrients.
The descaler has the capability of descaling up to 600,000 gallons, a feature that makes it perfect for a large household. Being quite versatile, this descaler does its job whether you are using city water or well water.
It also comes with extra accessories to enhance a user's experience. These include a whole house descaler, hose adapter, nipple, and shut-off valve. Installation is also pretty simple, and you'll get it ready for descaling within no time.
Talk of enhancing your laundry activities; this device won't disappoint you. This is because chlorine that's present in hard water will leave as gas. The process leaves your water fresher and odor-free. With it, your laundry will always smell fresh and have a pleasant soft feel after washing.
The device is also quite maintenance-friendly. Once you install it, there won't be the need for draining or backflushing.
Pros
Quite versatile
Easy to install
Stress-free maintenance
Reduces scale deposit for 6 years
Salt-free technology
It lasts long
Cons
The system is a little noisy.
3. Eddy Electronic Water Descaler, ED6002P-US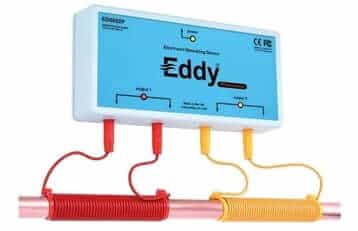 The Eddy ED6002P-US electronic water descaler might be all you need to maintain a shiny look on your sinks. It not only prevents limescale buildup but also eliminates existing deposits.
Get it, and you won't have to worry about losing healthy minerals from your water. It acts as a water softener alternative while keeping all essential minerals.
The fact that this unit is also salt-free means enhanced skin, scalp, and hair health. This feature also makes it entirely environment-friendly.
Eddy water descaler is pretty easy to install and one of the simplest units you'll come across. It actually requires no set-up or maintenance. You just need to screw the magnets into place around the main water pipe, and you're done.
Make sure to install the unit in a sheltered area as it isn't waterproof. It is also quite easy to maintain since it doesn't need plumbing changes or special cleaning.
This descaler doesn't alter water hardness. You'll, therefore, still benefit from all particulates in your drinking water. It is also by far more economical than other units.
Pros
Easy to install
Salt-free
Eco-friendly
Maintains healthy minerals
Maintenance free
Cons
It doesn't soften water like the old-fashioned salt-based water softeners.
It doesn't alter water pH, and it might be necessary for some people
4. iSpring ED2000 Whole House Salt-Free Electronic Descaler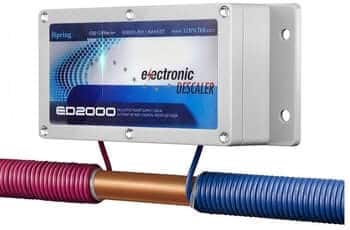 Are you looking for a descaler to help you solve your hard water issues without using chemicals or salt? iSpring ED2000 electronic water descaler makes a great option. It clears all limescale buildup with zero salt and zero chemicals, a feature that makes it convenient for individuals whose diets are salt-restricted.
ED200 is a whole house water descaler designed for all hard water areas. Go for it, and it'll descale your entire water system. It also works well with water heaters without tanks and boosts your home appliances' life.
Installing the iSpring ED2000 is as simple as taking a walk in the park. The process won't take much of your time and space. Installation can be done on PVC, PVX, copper, or a CPVC pipe.
It's also quite a worthwhile buy because there is no need for plumbing or cleaning. A cool feature, right?
With iSpring ED2000 whole house electronic descaler, you won't miss out on healthy minerals from your water. It is unlike other salt-based water softeners that get rid of these essential minerals.
Retaining these minerals in your water system will keep your hair and skin as healthy as ever.
Pros
It is salt and chemical-free
Simple installation
Retains healthy minerals
Plumbing modifications not needed
Descales your entire water system.
Cons
You can only install it close to an electric outlet. This brings a limitation on where to install it in the house.
5. Aquasana EQ-AST SimplySoft (Descaler System)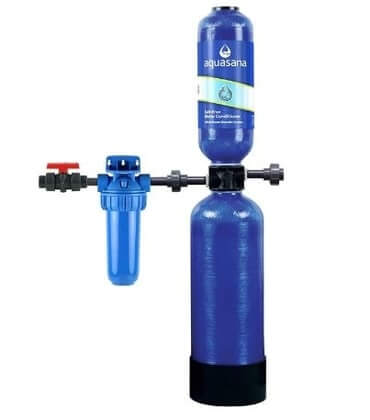 The Aquasana Simplysoft whole house descaler is a convenient limescale remover for any home that uses hard water. It is referred to as eco-friendly because it doesn't involve the use of salt or harmful chemicals.
The descaler uses the Nucleation Assisted Crystallization technology to condition water naturally. This helps to reduce the scaling effects.
It uses a special media to change the structure of hardness minerals in your water. The media prevents the minerals from binding and forming deposits.
Purchase the system, and it might prolong the life of your home appliances by preventing limescale. It will also cut down on plumbing costs since there is no maintenance that's needed.
The system will also keep all your glassware, faucets, and sinks stain-free. The results? A neat and pleasant home appearance.
Contrary to salt-based water softeners, this descaler doesn't rob you of minerals. With it, you'll get rid of scale off your water and minerals. It'll also enhance your hair and skin health.
Maintenance is easy in that you won't need to add salt every now and then or get drainage for wastewater. Additionally, this descaler does not need cleaning.
Pros
Convenient for salt-free diet individuals
Easy maintenance
Environment-friendly
Doesn't use harsh chemicals
Keeps sinks and faucets stain-free
Cons
Changing the pre-filter can be a bit of a hurdle.
The 6-year warranty provided is only validated if you get a licensed plumber to install.
6. HQUA 5000E Electronic Water Descaler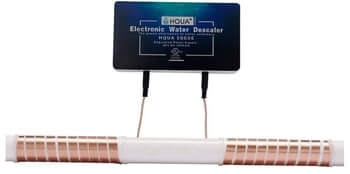 HQUA 5000E electronic water descaler comes with the current nature-friendly technology. It naturalizes water without the use of chemicals and salt. This feature makes it environment-friendly and safe for consumption.
The descaler also ensures that your water system is not filled with excessive sodium.
Compared to the traditional water softeners, this descaler is more cost-effective. Why so? It doesn't need regular maintenance or plumbing. Also, once installed, it works perfectly without the need for chemical replacements.
Moreover, installation is quite easy with the user manual from the manufacturer.
If you usually experience trouble combing your hair, this HQUA water descaler should be good news for you. It eliminates limescale and keeps healthy minerals to keep your hair tangle-free.
Are you tired of ending up with wrinkled clothes after laundry? This HQUA water descaler will also give you a pleasant laundry experience. It naturalizes your water to give your clothes a smooth feel after the laundry.
Pros
Smoothens laundry making it comfortable on the skin
Eliminates stains
Saves on energy
Dissolves existing limescale
It doesn't need plumbing
Cons
It doesn't act as a water softener, thus not convenient for anyone looking for a water softener for hard water.
7. Scalewatcher 3 Star Residential Water Descaler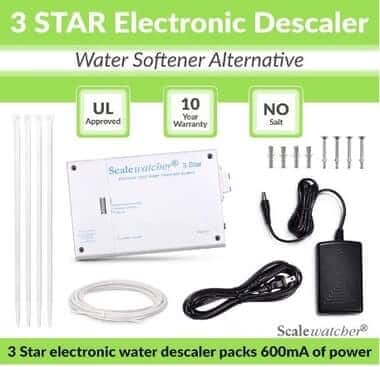 The Scalewatcher 3 original scale remover is often used in factories and water parks. It builds up everything you need to keep lime buildup at bay. It offers superior limescale control with the 600mA of power it uses to fight limescale.
With superior performance, this descaler will enhance the longevity of your home appliances. It will also help boost your kitchen's neatness because you will no longer have cloudier dishes.
Salt-based water softeners are costly to maintain, but this modern electronic descaler comes with zero maintenance costs. Once installed, you won't need frequent visits to your plumber for changes.
It is a salt-free unit meaning that you won't need to check on salt levels now and then. This will leave you with minimal chemicals in your water system. It, therefore, means that you will have water that's gentle and healthy to your hair and skin.
Moreover, this device is quite versatile and works on all your diameters. Whether you have plastic or metal-made water pipes, this device suits you.
Pros
It is easy to install.
Cheap maintenance
Mounting hardware is included
Retains important minerals
Zero plumbing changes
Cons
Some users complain that it needs a regular reset.
Best Water Descaler Buying Guide
Before purchasing an electronic descaler for your home, office, or factory, consider the following factors.
Before paying for that descaling system, ask yourself how effective it is. Will it give you the results you want to achieve? How will it impact the longevity of your faucets and piping? Get answers to all the questions in your mind, and then go for the product that suits you best.
Although most water descalers are easy to install, you might still come across a more complex model that requires more skill to install. It's therefore wise to customer reviews before you order for one.
Go for a system that comes with an instruction manual. The instructions should also be easy to read and understand.
If you're a first-timer, go for a brand that provides additional customer support.
Always check out whether any maintenance is required for the descaling system before you pay for it. Although most electronic water descalers don't require any maintenance, you don't want to be in for surprises.
The size of the water descaler to go for will depend on where you intend to put it. And although most come in compact sizes, you still need to do prior research and ensure that there is enough space for you to install the system.
The descaler should be space-saving and lightweight for convenience.
Any softening or filtration system will have an impact on your water's flow rate. If your water system has a weak flow rate, adding the wrong descaling system will worsen the situation.
You also need to keep in consideration that water descalers only work with running water. It can't process stagnant or stored water.
Never purchase a descaling system that comes without a warranty. The more extended the warranty, the better.
A warranty from the manufacturer will give you peace of mind and enable you to purchase the product without fear. You know that the company can replace the descaler or give you a full refund if not satisfied with the system's output.
How Does a Water Descaler Work?
Well, let's see how water descalers work in case you are using them for the first time.
The salt-free water descalers don't soften water, but they realign the ions. This is normally done by a magnet or a cartridge that's featured in the device. What the magnet does is that it makes the water ions want to repel against each other. This, in turn, prevents them from building up in the sinks and the facets.
An electronic water descaler doesn't get rid of these minerals from your water. All it does is prevent limescale buildup. The descaler also gets rid of all the harmful substances. This includes chlorine that would be harmful to your skin and hair
What is the Difference Between a Water Softener and a Water Descaler?
The main difference between a water softener and a water descaler is in the way each treats water. A water softener changes the chemical composition of the water, while a descaler changes the molecular structure of the water.
A descaler charges the water lessening the effects of minerals that cause buildup.
To understand their differences better, let's look at their pros and cons.
Water Descaler Pros
Water Softener Pros
1. They are easy to install and don't require maintenance

2. Water descalers are affordable alternatives to water softeners

3. Water flow is 100% unaffected

4. They are eco-friendlyThey don't remove essential minerals from the water
1. Removes thousands of contaminants that water descalers may not

2. Operate quietly

3. Do not affect the flow rate of your water supply and can work with other types of water supplies like well water.
Water Descaler Pros
Water Softener Cons
1. You might need more than one descaler if you have a large household

2. Don't remove all contaminants
1. Expensive due to the constant salt and filter changes

2. Constant maintenance

3. Tedious and complicated installation process
Difference Between a Water Softener and a Water Descaler
Why Should You Choose an Electronic Water Descaler?
Why invest in a water descaler? Perhaps this is a question running through your mind as you are drawing your home's budget. Well, there are plenty of benefits that come with a water descaler. Let's take a look below.
It prolongs the life of your home appliances. Ignoring limescale formation in your water system is a risk you can't afford to take. It ends up destroying your water pipes and home appliances. Water descalers eliminate scale buildup. This, in turn, salt-based boosts the life and functionality of your appliances.
It also enhances your skin and hair health care. This is because water descalers keep the healthy minerals in your water system. With that, this could be a worthwhile investment for your family's healthcare. Another health benefit of this descaler is that it's an excellent remedy for individuals with a salt-free diet.
Moreover, you may want to get an electronic water descaler to reduce your energy bills. This is because the device remains operational. This is unlike the traditional salt-based water softeners that consume a whole lot of energy.
We all know the cloudy effect and stains that result from cleaning your surfaces with hard water. Water descalers are an excellent option for excellent home keeping. They ensure that all your surfaces are stain-free.
Water descalers also need very little maintenance. That's compared to the water softeners that need frequent salt additions.
How to Install?
Now that you know why you need a water descaler. It's time we enlighten you on how to go about the installation. First of all, you will need to determine whether your home has a vented or an unvented water system.
A vented water system has a cold water storage tank placed in the loft on top of the ventilation closet. But, an unvented water system doesn't have a water tank.
With a vented water system, you can install the descaler wherever your cold mains are fitted. Note that it's also quite essential to install it on the cold down service to the hot cylinder. This is to ensure that scale doesn't build up on the immersion element, which may break down as a result. If your home is 5 bedrooms, you will need to fix a single LP2 on the mains and one LP1 on the cold-down facility.
If you have an unvented system, all that matters is that it should be done on the cold mains pipe. This is because the descaling magnet releases currents in all directions. With this, the water flow direction isn't a problem.
Frequently Asked Questions
Are electronic water descalers eco-friendly?
Yes. Electronic water descalers do not use salt or waste water. Their running costs are almost zero. Reducing waste is a responsibility for all households, and these descalers help in that they only affect running water.
Are electronic descalers better than softeners?
Electronic descalers are better than softeners since they don't eliminate anything from the water. They only break the structure of hard minerals from your water and enable them to pass through water supply lines with ease.
Conclusion
With the above water electronic descaler reviews, you definitely will be able to pick the best one for you. Remember, we have not highlighted the most expensive descalers to make you rob the bank. We have highlighted the best for your home water system needs.
Every home out there has its unique needs. It's upon you to choose the best electronic water descaler that will suit you best. The good news is that with any of these devices, you won't have to deal with any bags of salt because they are all salt-free!