Is well water safe to drink? Apparently, no. Well waters are teeming with harmful microorganisms, bacteria, and parasites. And it has a huge amount of iron. Iron gives the water an off-putting taste and smell. It can also stain any surface it comes in contact with.
The good news is, you can make well water potable and Iron-free with the best iron water filters. The amount of iron found in well waters isn't enough to give adverse effects to your body. But you still wouldn't want too much iron in your drink or bathing water. Our top picks will make your water clean and crisp.
Let's take a peek at our iron filter for well water reviews and see why these brands deserved the spot.
Best Water Filters For Well Water with Iron
Excess Iron doesn't belong in your glass of water. Nor does it belong in your water for bathing and cleaning. That's why you need to look for the best Iron filter for your well water.
It's confusing to pick a reliable brand. We have rounded up the best brands in the market today. Keep scrolling to see our top picks.
1. AFWFilters AIS10-25SXT AFW Air Injection Iron Filter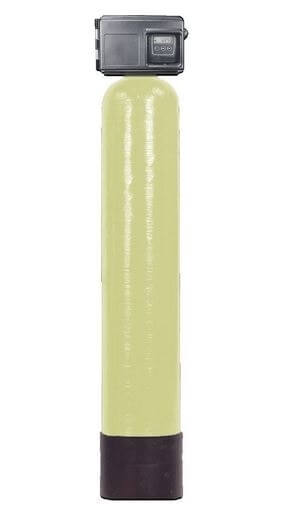 AIS10-25SXT AFW can effectively remove excess minerals from well water. Apart from iron, it can lessen the amount of Manganese and Sulfur to an acceptable level.
It uses an air injection system that utilizes an oxidation system. Most oxidation systems use two tanks and are quite expensive. This iron filter, on the other hand, uses only just one tank. The lesser tanks involved, the less expensive it is.
One of the biggest advantages of AIS10-25SXT AFW is that it's a budget-friendly water filter that works. Compared to other filters with oxidation systems, this iron filter can significantly reduce mineral content. The system injects air into the water. As the air fills the tank, oxidation begins. And this removes the impurities.
It uses an iron trapping media to contain all the solid contaminants. This system can remove most of the iron, Manganese, and Sulfur from the well water.
Most iron water filters use harmful chemicals to render water Iron-free. This Iron filter, on the other hand, is free from toxic chemicals. This water filter is ideal for average households.
Pros
Inexpensive
Chemical-free
Can significantly reduce more sulfur, manganese, and iron
Easy to install
Cons
Larger particulates may escape the filter
Creates a noise during backwashing
2. iSpring WGB32BM Whole House Iron Filter for Well Water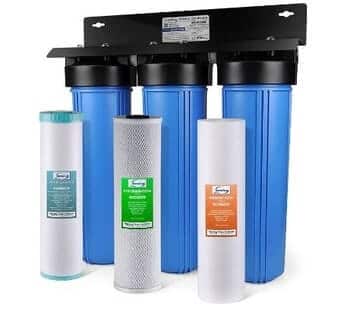 This iSpring WGB32BM 3-stage whole house filtration system for iron has met the NSF/ ANSI standards. Such certification ensures that no harmful chemicals and contaminants can leak through the water filtration system.
This water filtration system is connected directly to your main pipe. Apart from iron and sulfur, it can remove up to 95 percent of contaminants from your well water. This filtration system can also remove contaminations such as pesticides, rust, and herbicides.
This water filter makes use of a 3 stage filtration system. First, the sediment filter. This filter can block sediments up to 5 microns. Second, the CTO carbon filter. The CTO filter uses a high-quality coconut shell that removes most impurities.
And lastly, the Manganese and iron filter. These two filters remove iron and Manganese from your well water.
One of the most significant advantages of this whole house filter is that it can produce 10,000 gallons of water. It's enough to meet an average size family's water needs for up to a year. The secret lies with the brand's CTO and sediment filters.
Pros
Effectively removes foul odor in the water
NSF/ANSI certified
High water pressure
Can remove sediments up to 5 microns
Cons
Extreme temperature can damage the housing
May have a challenge with higher manganese level
3. Home Master HMF2SmgCC Whole House 3-Stage Water Filter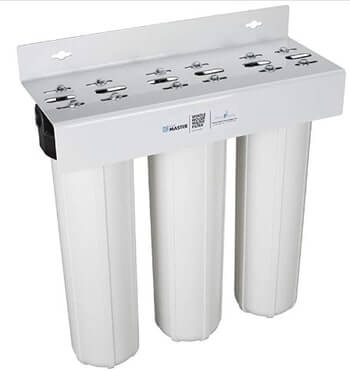 Home Master HMF3SdgFeC is the best whole house filter for iron that has the most value for your money on our recommendation. It can deliver clean water of up to 15 gallons per minute.
It can remove up to 95 percent of impurities without drawing down the water pressure. This Home Master HMF2SmgCC 3-stage system boasts of 3 filters that can remove as many impurities.
The three-stage filtration system involves the following:
The first stage – The first stage of filtration already uses four layers of filter. It takes care of the sediments. And this water filter can block sediments as small as 1 micron. This results in crisp and smooth water.
The second stage – It removes as much as 95 percent of iron from the water.
The third stage – It uses a granular activated carbon shell. This high-quality filter removes any pesticides, herbicides, remaining chemicals, and manganese from your water. Hence resulting in cleaner water without the off-putting smell and dark color.
This whole house water filter is quite low maintenance. And it can provide a steady supply of a year's worth of clean water for a family of four. Additionally, since it uses larger filters, you don't need to call for service maintenance and repairs that often. It'll save you time and cost.
Pros
Can filter sediment as small as 1 micron
Low maintenance
NSF certified
The filter lasts longer up to a year
High water pressure at 15 gallons/minute
Cons
Challenging to install
Might not be that effective for acidic water or those with iron bacteria
4. Durawater Air Injection Iron Eater Filter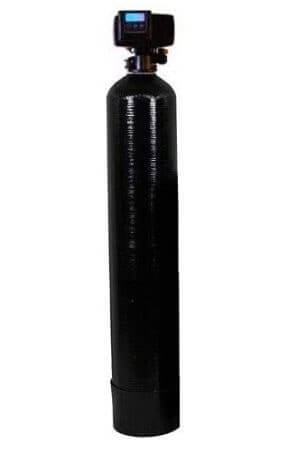 Too much iron in your water can destroy your appliance. It can clog your drains, and the cost of repair can be quite expensive. But most importantly, a high percentage of iron in water causes corrosion in pipes and appliances, which often, in turn, increases the amount of lead in water. Lead is one of the dangerous contaminations of drinking water. Not to mention, it's discolored water that's not even usable for washing the dishes.
Durawater Air Injection water filter can remove iron up to 12 ppm. This brand is perhaps one of the best well water filters that can remove iron. Hence, it lives by its name, "iron Eater".
It can also remove manganese, sulfur and other impurities from your well water. It makes use of an air injection system to purify well water. This system creates pockets of air and the air oxidizes iron. It results in water that's clean and free from metallic odor.
It's perfect for households that use iron-laden well waters. You can notice a significant decrease in the orange tinge in the water immediately after the first use.
People who have been dealing with too much iron in their well waters have found relief in this brand. Not only can you use water for washing your white clothes, but you can also drink it straight from your faucet.
Pros
Removes iron up to 12 ppm
Easy to follow video instruction
Easy to install
Can make iron infested water potable
Cons
Does not come with any media
5. APEC Water Systems CB3-SED-IRON-CAB20-BB – Whole House Water Filter System with Iron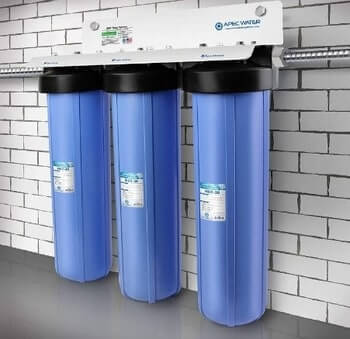 If you have no basic plumbing skills or if you don't like DIYs, this APEC CB3-SED-IRON-CAB20-BB water filter might be for you. The APEC 3 stage whole house iron filter comes in pre-assembled. So, it's easier to install it in your water system.
It can also remove VCOs and sediments. Furthermore, this whole house water filter significantly reduces chlorine in the water. Chlorine can be an abrasive mineral that can harm your skin and clothes.
The filters are built for heavy use and are long-lasting. Apart from household use, it is also suitable for light commercial and industrial purposes. The large blue housings can withstand high water pressure. Therefore, it can meet the water demands of a busy commercial establishment.
The large housing can withstand six months of accumulation of particulate matter. And it won't even affect the water pressure. So, this water filter is quite low maintenance. It can clean up to 80 gallons of water. So, you don't need to replace the cartridge every now and then. It's the best water filter for iron, which can remove excess chlorine too.
Pros
Effectively removes chlorine in the water
Has at least one reusable and washable filter
Versatile
Low maintenance
Cons
Filtered water can still contain lead and fluoride
Cannot filter calcium and magnesium
Factors to Consider When Buying an Iron Removal Whole House Water Filter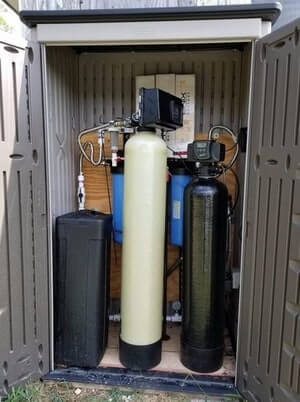 Iron is an essential nutrient. But if its percentage is high in drinking water, it can be harmful. Well waters, for instance, have a higher iron concentration. It often results in orange-tinged water with an undesirable metallic taste. The darker the color, the higher the iron concentration in the water.
You can still use well water for the household, commercial or industrial uses. But it has to be filtered first.
Not all water filters are the same. The best iron filters for well water can also remove impurities such as Lead, Chlorine, Manganese, Sulfur, particulate matter, and other sediments. But not all water filters can effectively lower iron content down to the acceptable level.
We have listed several factors that you have to consider before buying the best iron removal system for well water.
1. Efficiency
You should buy the best water filter for the iron that can cater to your needs. It should also be able to decrease other minerals and impurities significantly. Sulfur, for instance, can make the water smell rotten. So, you might want to get a brand that has a wider scope of purification.
The best water filters for well water should be able to remove other chemicals and impurities aside from iron.
2. Water output
Water filtration systems produce varying amounts of water. Some brands can produce 60,000 gallons, while some can supply up to 80,000 gallons. This amount is good enough for an average-sized household's water usage. Take note that It might have small increments depending on the usage.
The iron filter for well water suitable for commercial use might need more water output. It's to keep up with the demand for business establishments.
3. Installation process
You must ask yourself these questions- Will I be the one to install the water filter? Or would I hire a plumber?
DIY installation is convenient. But you must make sure that the unit that you're buying is easy to install. Otherwise, you might need to hire a plumber.
Some water filter systems might need additional hardware for installation. So, you must ask their customer service so that you'll be ready with the required tools and parts.
Some of the best wall water filters come pre-assembled. If you don't like doing much of the DIY thing, then you must consider getting pre-assembled brands. Or you can just hire a plumber to install it for you.
4. Maintenance
Water filters can deteriorate if not maintained. The accumulation of iron and particulate matter can clog it. And some water filters are more prone to clogging and leaking. These brands will require more maintenance.
There are water filters that might require regular changing of some parts. For instance, some brands will need salts daily. These filters use a salt-based softening unit.
Get to know how often you need to change some parts. Or if some components are reusable and washable.
5. Lifespan
Water filter systems are subject to wear and tear. So might want to buy longer-lasting filters. How to check it? Typically, filters that offer a more extended warranty are often more durable than those who don't.
So better to get water filters that offer Five Year warranty and up.
6. Budget
Yes, no matter how much you want that expensive water filter, you still have your budget to consider. An efficient iron water filter would typically be more expensive, right? But our list has some brands that are efficient yet affordable too.
We know you have to stick to your budget.
We all do. You can still find the best water system for well water that's well within your wallet's reach.
Types of Iron Found in Well Water
Three types of iron thrive in well water- ferric, ferrous, and bacterial iron. They may look similar, but they do have different characteristics.
1. Ferric Iron
Ferric iron is the insoluble type. It's distinguishable. Since it hasn't meshed yet with the water, you'd be able to identify it right away. The color varies from bright orange to red.
This type of iron is the simplest form, making it easier to remove.
2. Ferrous Iron
Ferrous iron is the soluble form, meaning it has already blended with the water. This type of iron doesn't reveal itself right away. It would seem clear and colorless. But once it's exposed to the air, oxidation reveals a reddish-brown color. You might recognize the reddish-brown flakes which have settled at the bottom of the container.
This type of iron is often the culprit of stained clothes. It's usually found in deep wells where air and sunlight can't reach it.
3. Bacterial Iron
Bacterial iron is a product of both iron and bacteria. It mainly means that bacteria contain a high percentage of iron. It's reddish and has a slimy texture.
It's a type of iron has the most capacity to destroy your pipes and plumbing system. It can also serve as a breeding ground for harmful pathogens.
Bacterial iron often lives in wells that aren't maintained or cleaned.
How to Remove Iron from Well Water
Iron laden water has a strong metallic smell and taste.
It's not fit for drinking and cooking. And it's not ideal for washing clothes either. It can discolor your favorite white dress.
Too much iron in water can also damage your appliances. It can corrode your pipes and it can discolor your bathtubs and sinks.
1. Test your water first
You are already aware that well water is teeming with iron, so why the need to have it tested?
You have to see the level of iron as well as the concentration of iron bacteria. You need this information to be able to buy the best Iron water filtration system for your water pipe.
And it's also crucial to know what other impurities are lurking in your well water. Not all water filtration systems function in the same way. Some iron filters can remove a myriad of other contaminants.
For instance, a particular brand can remove arsenic while the competition cannot. If your well water tested positive for arsenic, you have to buy a product that can remove arsenic.
2. Effective filtration system
There are three types of filtration systems for removing iron from well water. Let's take a look at each one.
A. Oxidation filter
Oxidation filters can be chemical-free. But some brands may require the use of chlorine. Take note that chlorine is more for disinfection rather than filtering. And too much of it can be harmful to your health also. So better get an oxidative water filter that doesn't make use of chemicals.
It can also remove harmful minerals and impurities. It can improve the color and odor of your well water too. This type of filtration system usually affordable.
B. Reverse osmosis
Reverse osmosis can remove much more of the mineral traces in your water. It can actually remove a broad range of minerals that don't belong to your drinking water. And this could be healthy. But it has downsides too. Beneficial minerals might be taken out of the water also.
This type of filtration system usually requires low maintenance. You might need to call maintenance just every 1 or 2 years. Usually, a metallic taste in your water would signal you to call your plumber.
This type of filtration system often produces more Carbon footprint. So, if you're more on going green, you should look for other methods.
C. Water Softener System
This type of filtration makes use of salt to purify well water. It's often suitable for water used for bathing or washing clothes. Since salt can't be absorbed into your system through the skin, the higher sodium content will not cause any harm.
On the other hand, drinking it is another thing. People on a low salt diet should not drink this water.
Choose a water softener system that can both get rid of iron and other minerals such as sulfur and arsenic. Not all water softener systems can.
There's also a need to get premium salt regularly. And you must obtain high quality or purified salts so that it doesn't leave much residue in your tank.
Using this method requires more diligence and patience. After installing the system, you must test the water again to see if the iron has significantly decreased. It's the cheapest method, but it's also the least effective in filtering out iron.
3. Recheck your water
After you've installed your water filter, you must make sure that it does work.
You need to check for the levels of iron and other impurities. Be certain that it falls within the acceptable range. If not, you might need to exchange your water filter for another brand.
4. Maintenance
Maintenance is the key to keep your water fitters working for the years to come. Depending on the brand and type of filtration system, the need for maintenance can vary from months to even years.
Frequently Asked Questions on Iron Filter with Well Waters
Do Iron Filters Remove Iron Bacteria?
It depends. Usually, once well water is cleared of iron, the bacteria will be eliminated too. But if your water has a very high concentration of bad bacteria, you might need to disinfect it with chlorine before filtering it.
Some water filters can't eliminate a higher concentration of iron bacteria. Thus, you might need additional procedures before filtration.
What are the dangers of too much iron in your water?
Iron makes your water smell like metal. And it would also have an orange tint. This type of water is not suitable for drinking nor for washing clothes and dishes.
It can stain your bathtubs and drains as well. And the accumulation of iron in your pipes can lead to clogging. Thus, resulting in a hefty price for more plumbing works.
Excess iron in water also comes with the bacteria that feed on it. So, the higher concentration of iron would mean a higher level of iron bacteria. And when ingested, it can have serious adverse effects on your body.
It can cause heart, liver, pancreatic damage, and even diabetes.
Too much iron in water may lead to higher lead concentration in water, which may cause lead poisoning.
What other impurities and harmful minerals are in well water?
Apart from iron, well water usually has a lot of minerals, sediments, and organic matter.
Magnesium, Sulfur, Lead, Fluorine, and Chlorine are just some of the minerals that don't belong in your drinking water. These minerals can also damage your skin. And Sulfur in particular reeks of rotten eggs.
Conclusion
Well waters are naturally rich in iron. That's why well water has this significant orange tint and metallic smell and taste. The best iron filter for well water can remove the excess iron.
Along with iron comes the threat of iron bacteria. And well water is also very rich in other minerals, pollutants, and particulate matter. It's also a petri dish of various organic compounds.
These do not belong in your drinking or bathing water. It can also incur additional costs on plumbing and maintenance services once the iron damages your pipes and appliances.
Iron filters for well waters can effectively remove most of the iron in your water. But not all iron filters are made the same. Our iron filter for well water reviews will help you spot the best well water filter for you.